Do not hesitate when it comes having a Zion National Park Wedding or elopement! The magic found in the endless steep red cliffs and warmth radiating, captivates you in a dream come true. Mary and Jordan are such a beautiful couple, and I am in love with every moment of this wild wedding adventure.
Despite having to plan their wedding not once, not twice, but 3 times… they had the most gorgeous Zion National Park Wedding. It came together better than ever with the help of family and friends every step of the way! Keep scrolling to see the magic of Zion.
Yes, you read that right. They had a lot of planning put into getting married. Originally, they had a 200-person party planned for Mexico in April. Due to the pandemic, they had to opt-out of plan B which was replanned for Mexico in November. They then realized that international travel was not going to even be an option for 2020, so they went with plan C, to have a wedding in Utah at Zion National Park.
They got ready and had their reception at Under Canvas in Zion. It is the coolest glamping experience with locations near  National Parks all over the US.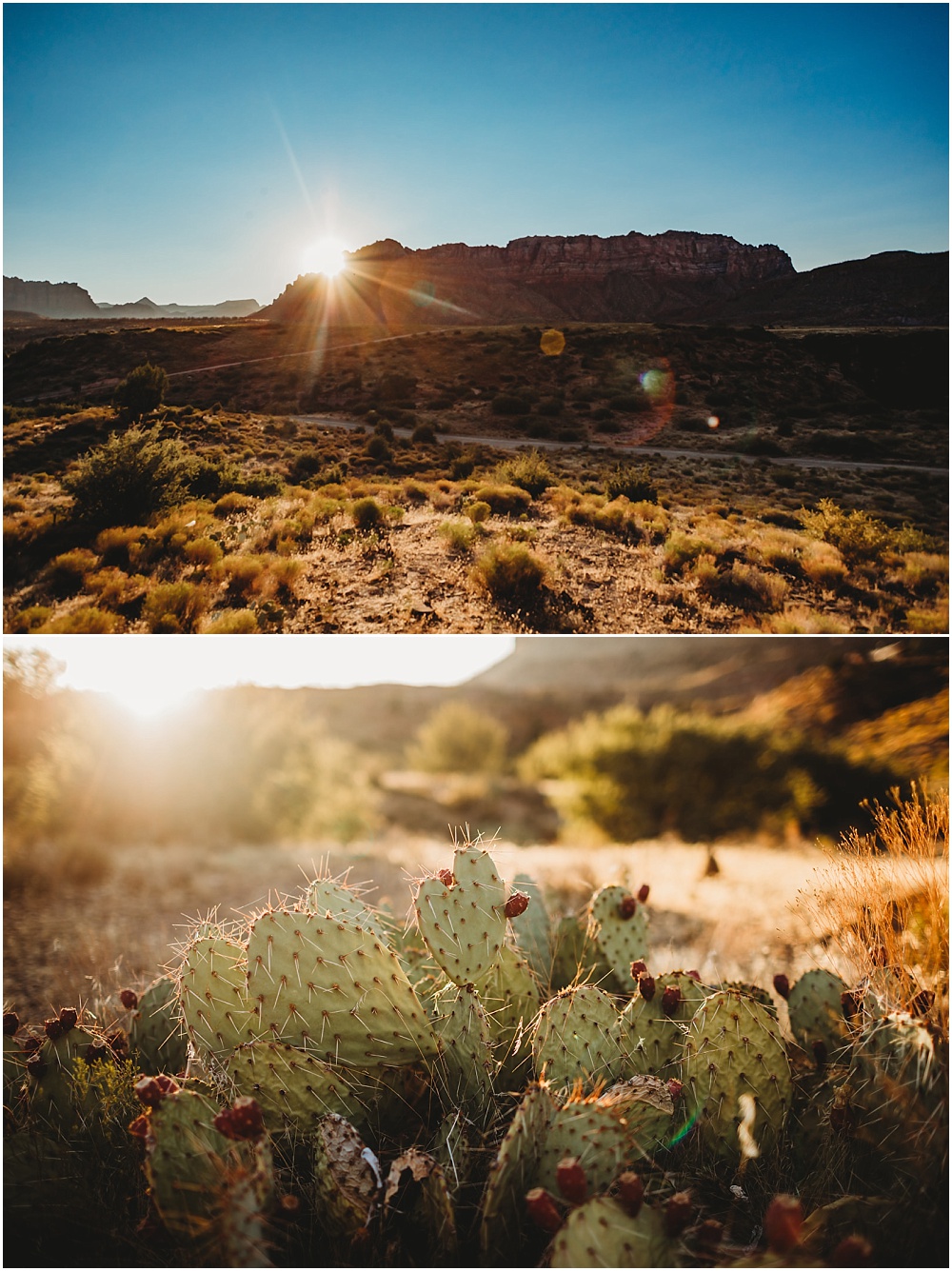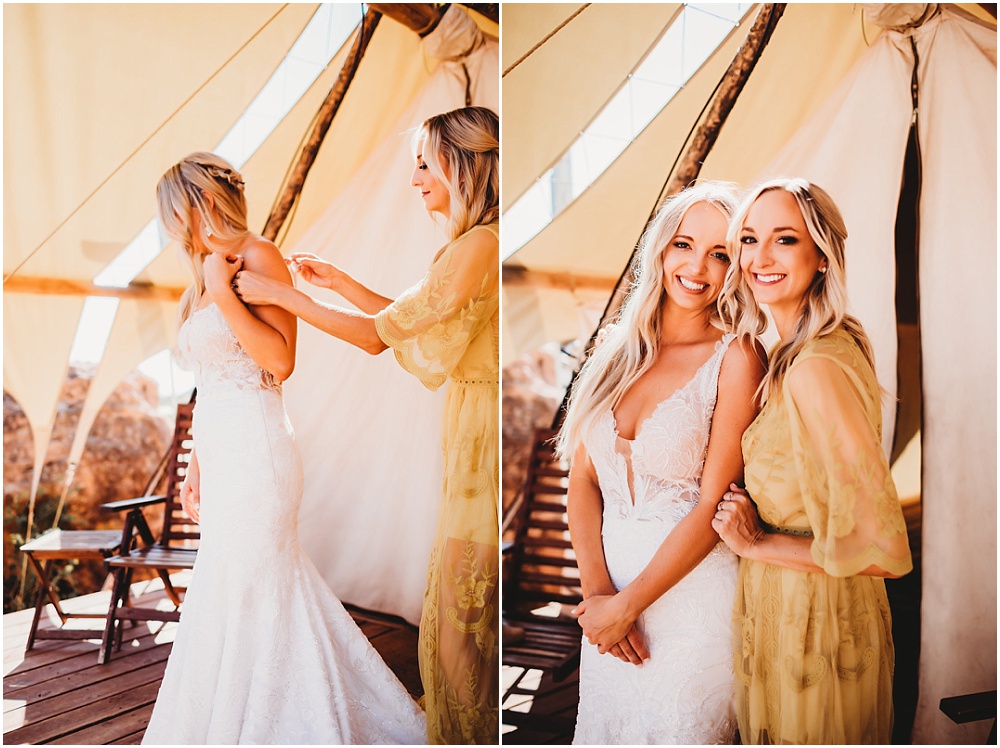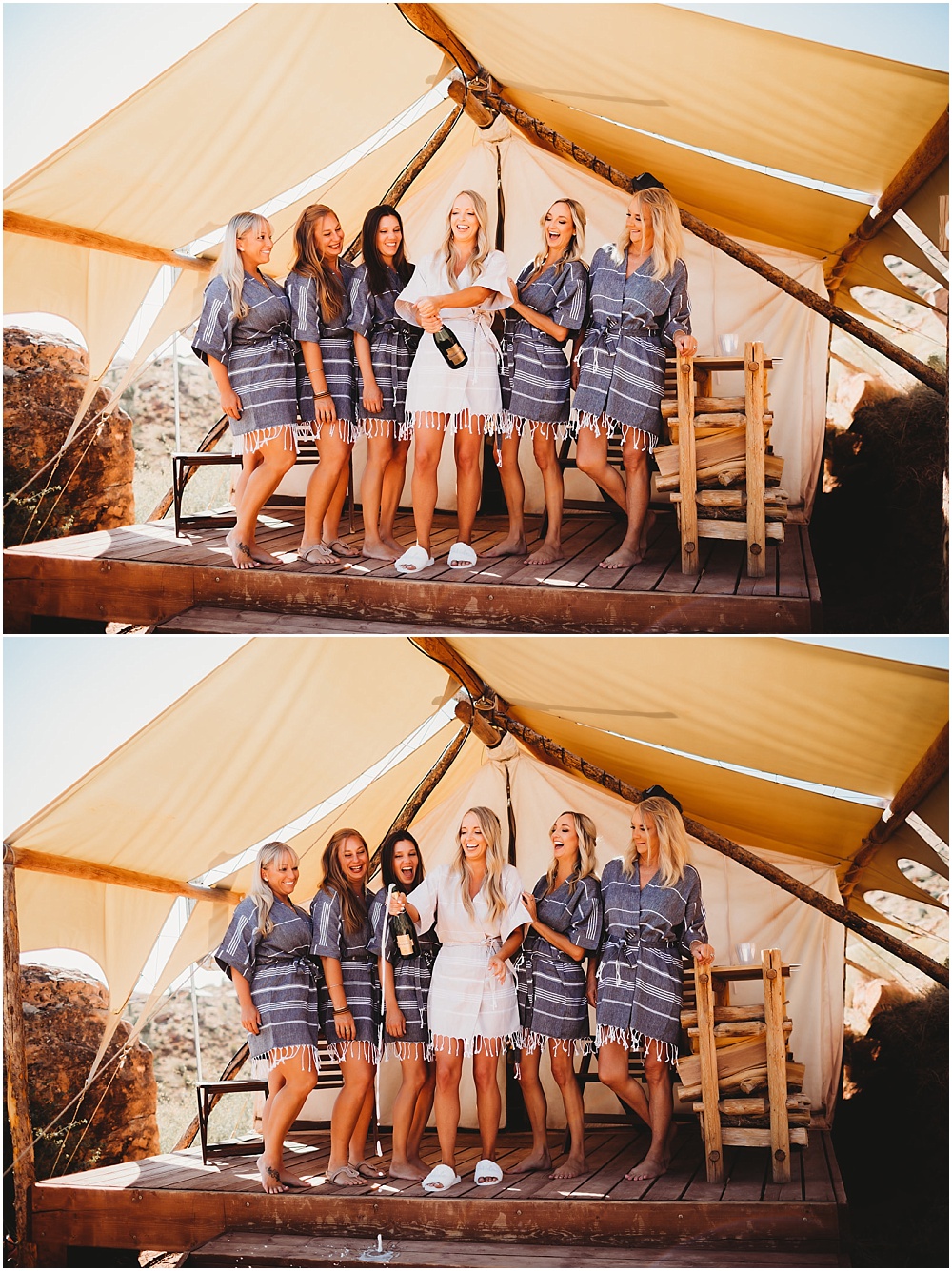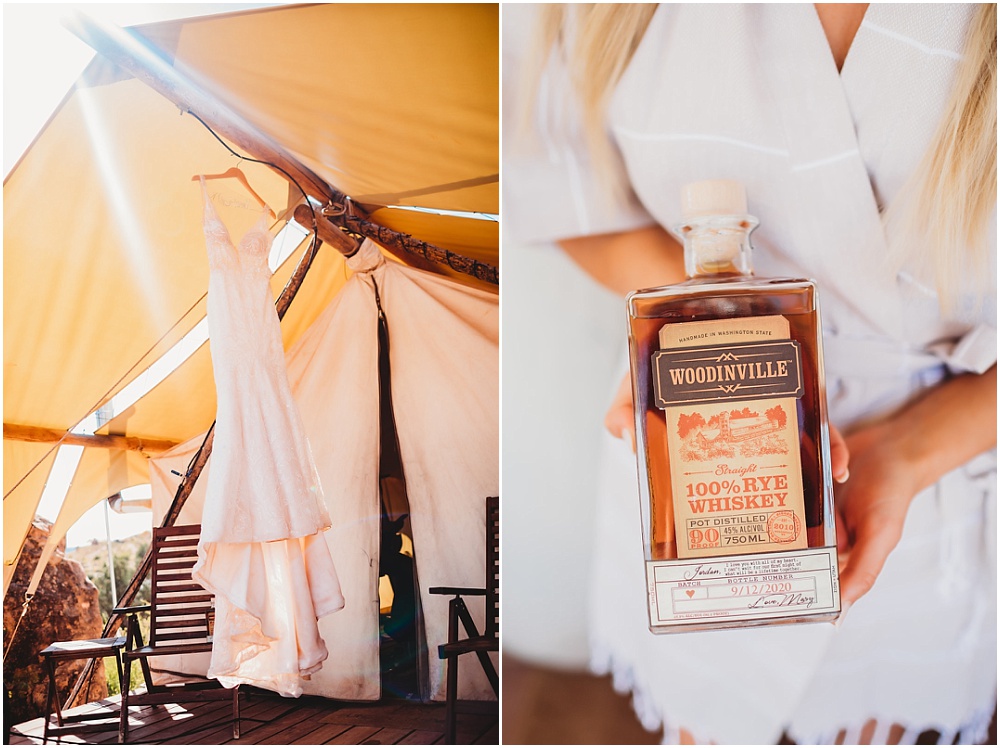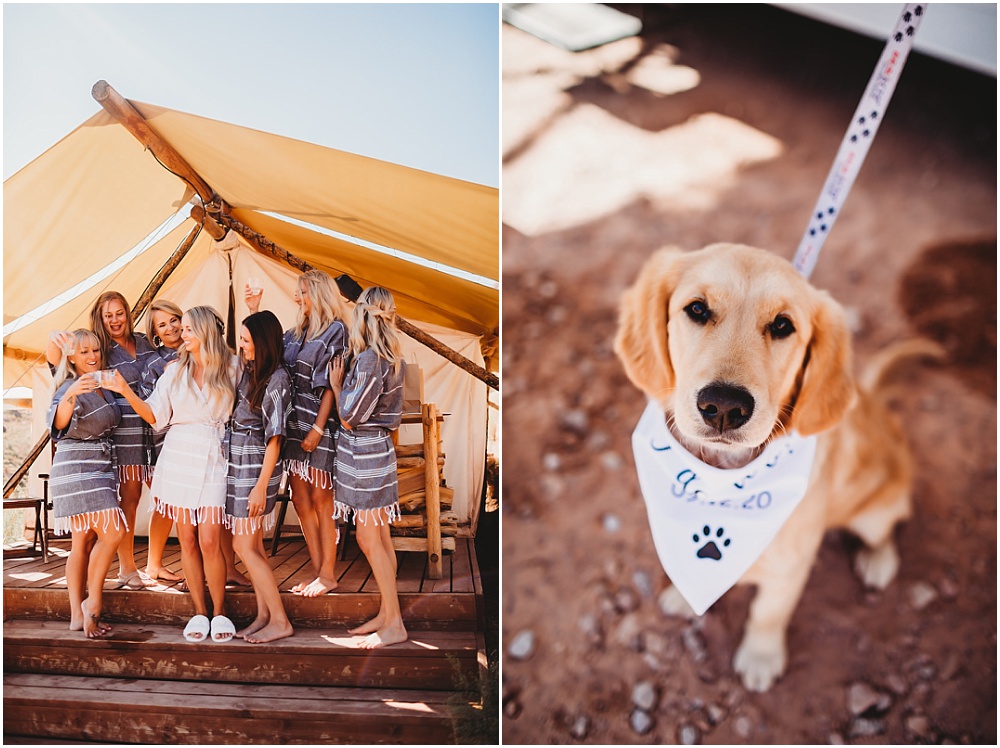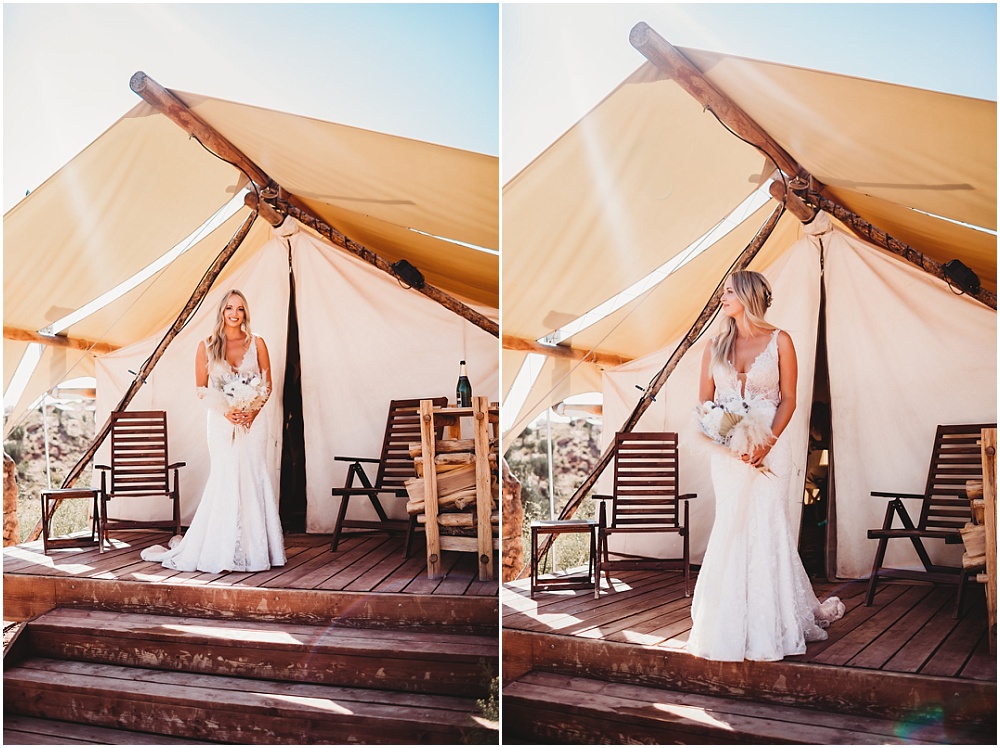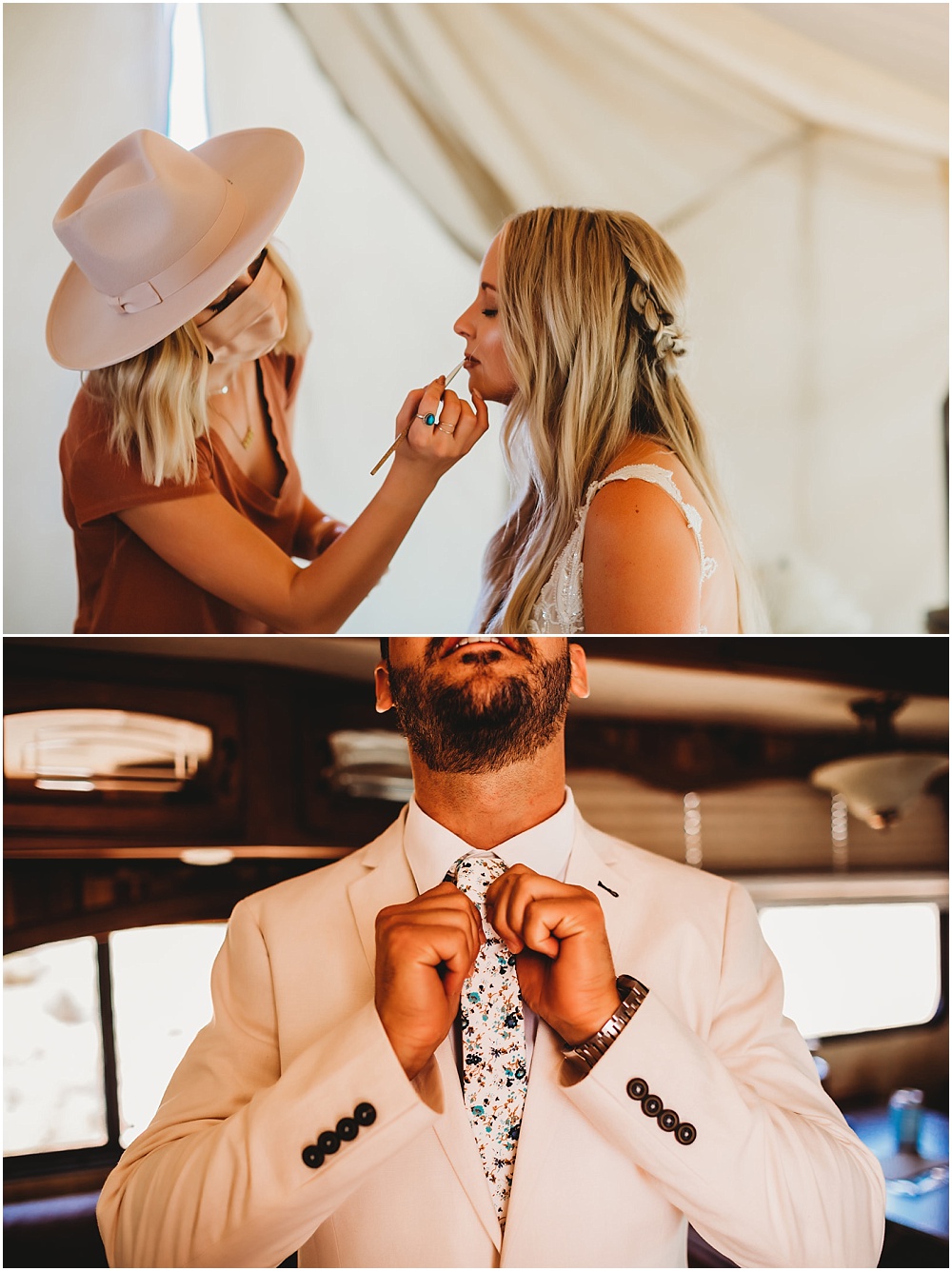 I have had the opportunity to see Under Canvas also in Glacier National Park for an incredible engagement session. So, yea I was excited to be back with Under Canvas again with beautiful canvas tents decorated with west elm furniture and all the comforts of home. The night before their wedding they had a cute welcome party with horseback riding, bonfires, and just hung out with their close family and friends. Honestly, that is what it is all about, being with the people you love, celebrating and having fun! It was so great they could finally get together with loved ones and just celebrate their marriage even though 2020 threw them through the wringer. Their family and friends also really stepped up and set everything up beautifully. Everybody brought something with them since most guests drove to Utah from Colorado and despite the short notice the labor of love to pull it all together perfectly.
Even though they had an amazing party the night before with friends and family they were up early in the morning the next day for their wedding. We hiked 3 miles roundtrip to the canyon overlook in Zion National Park for some breath-taking destination wedding photos.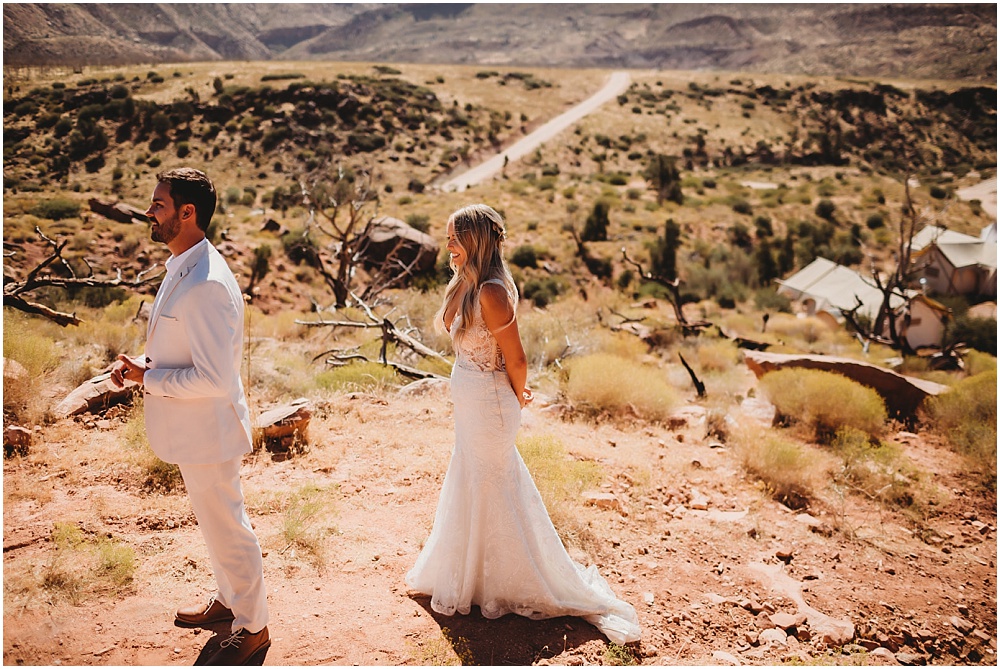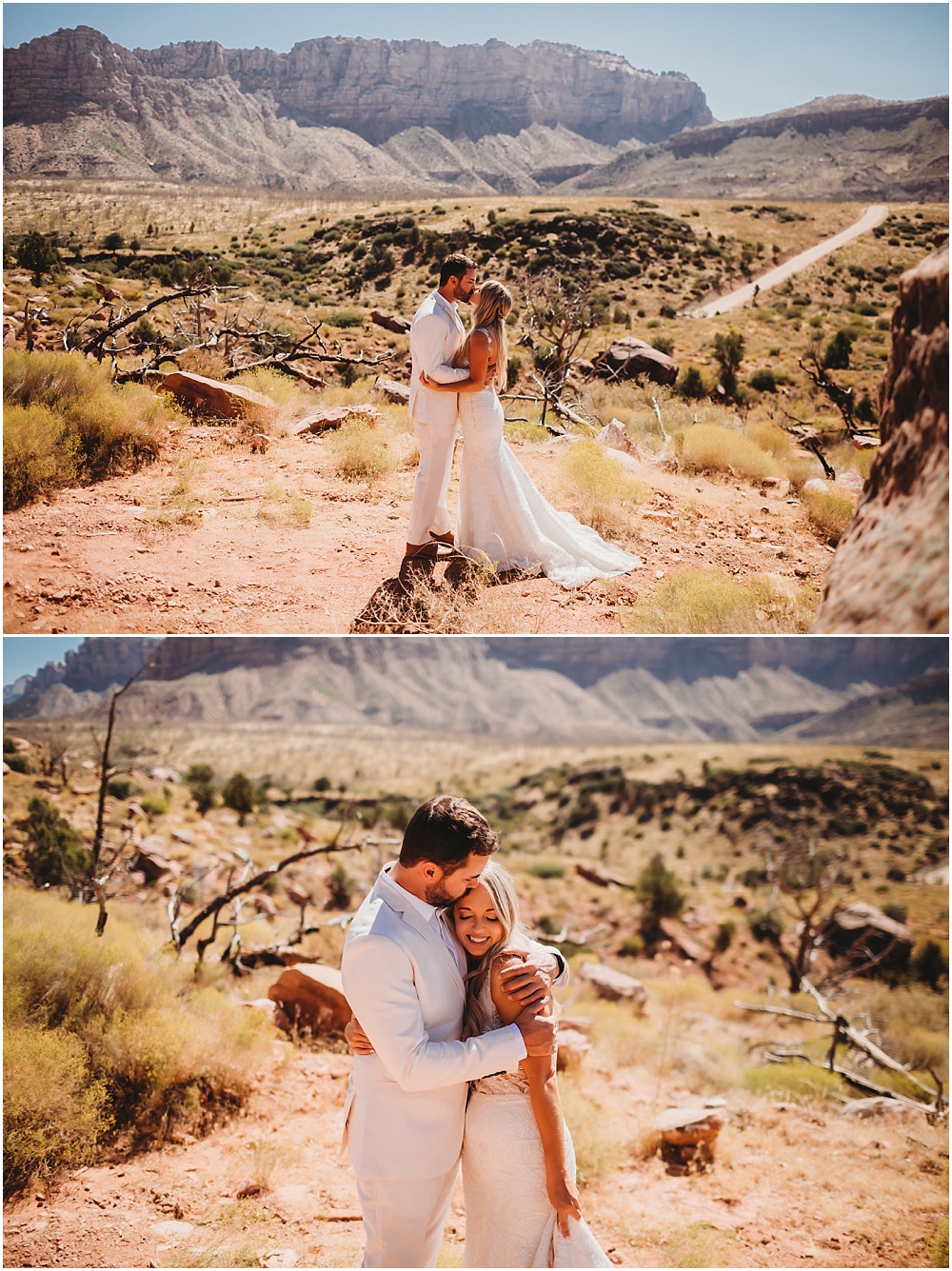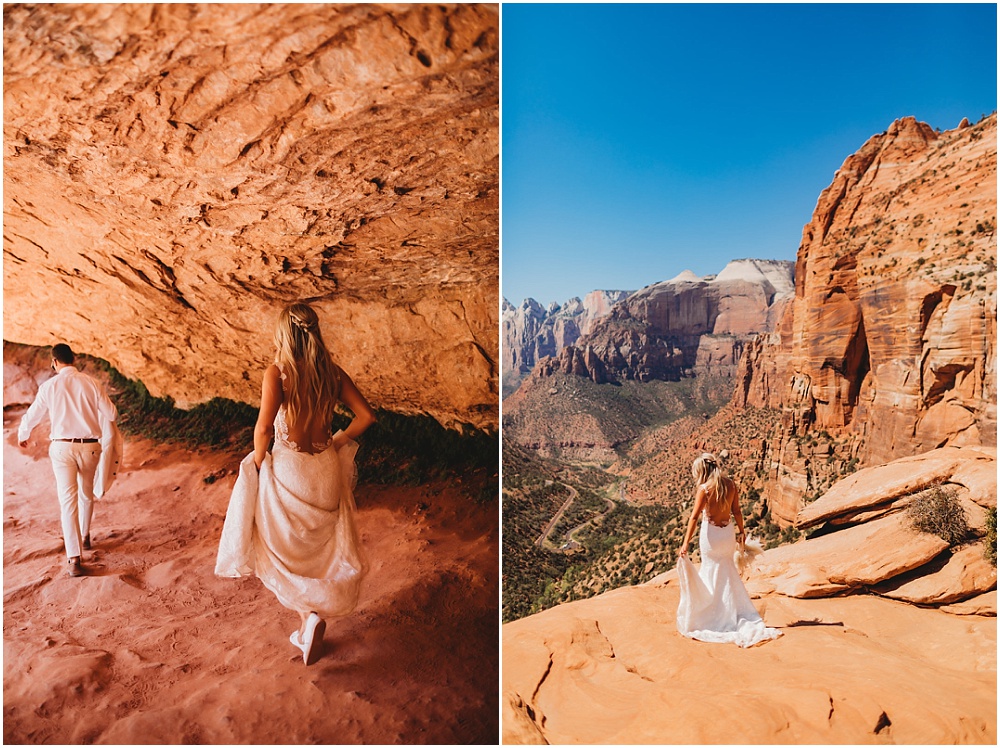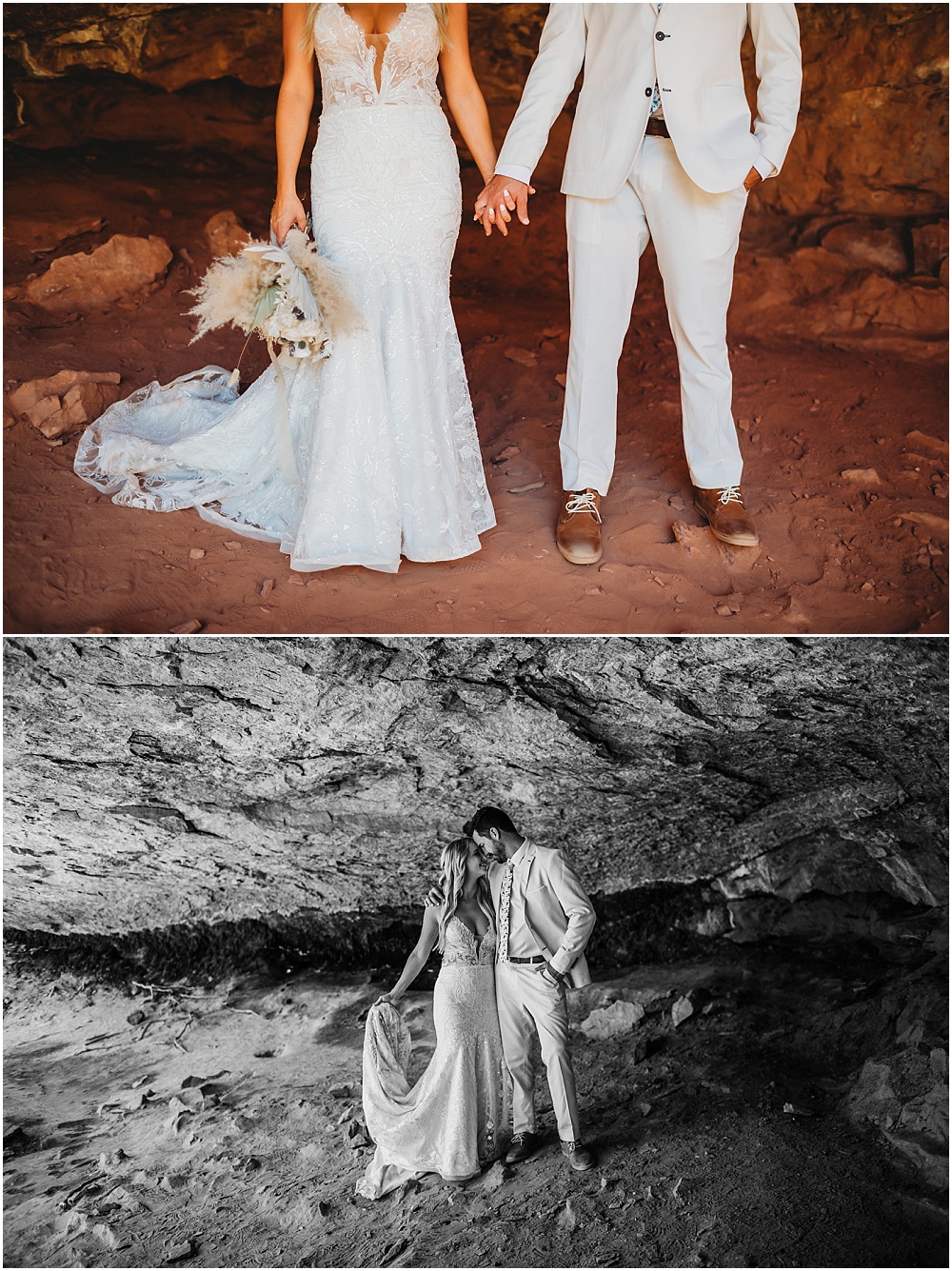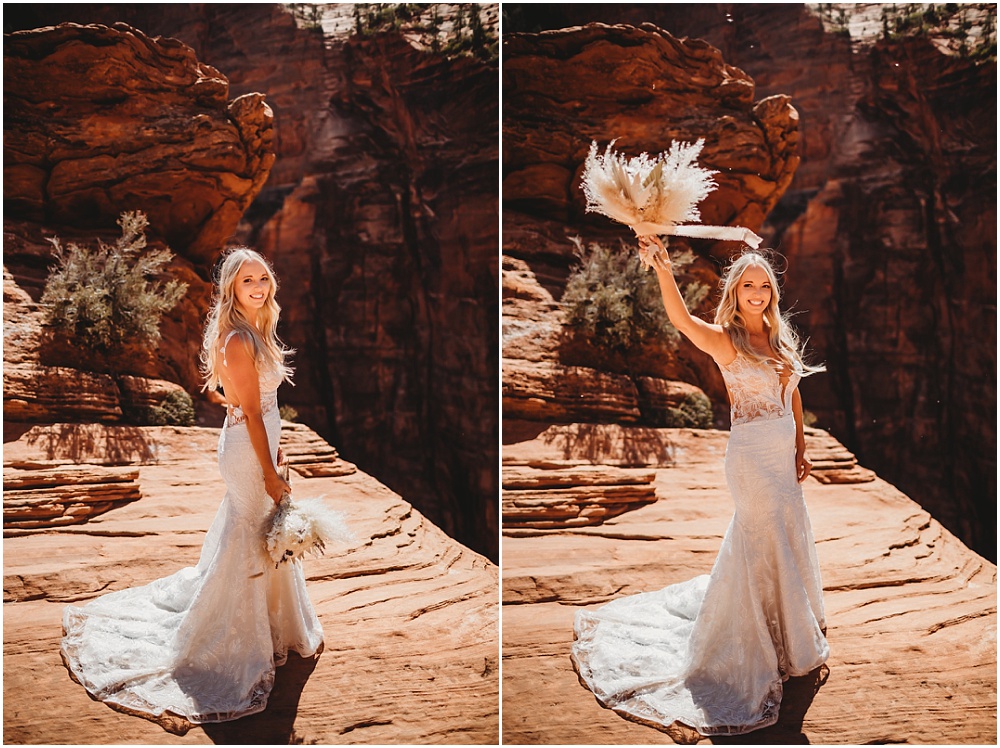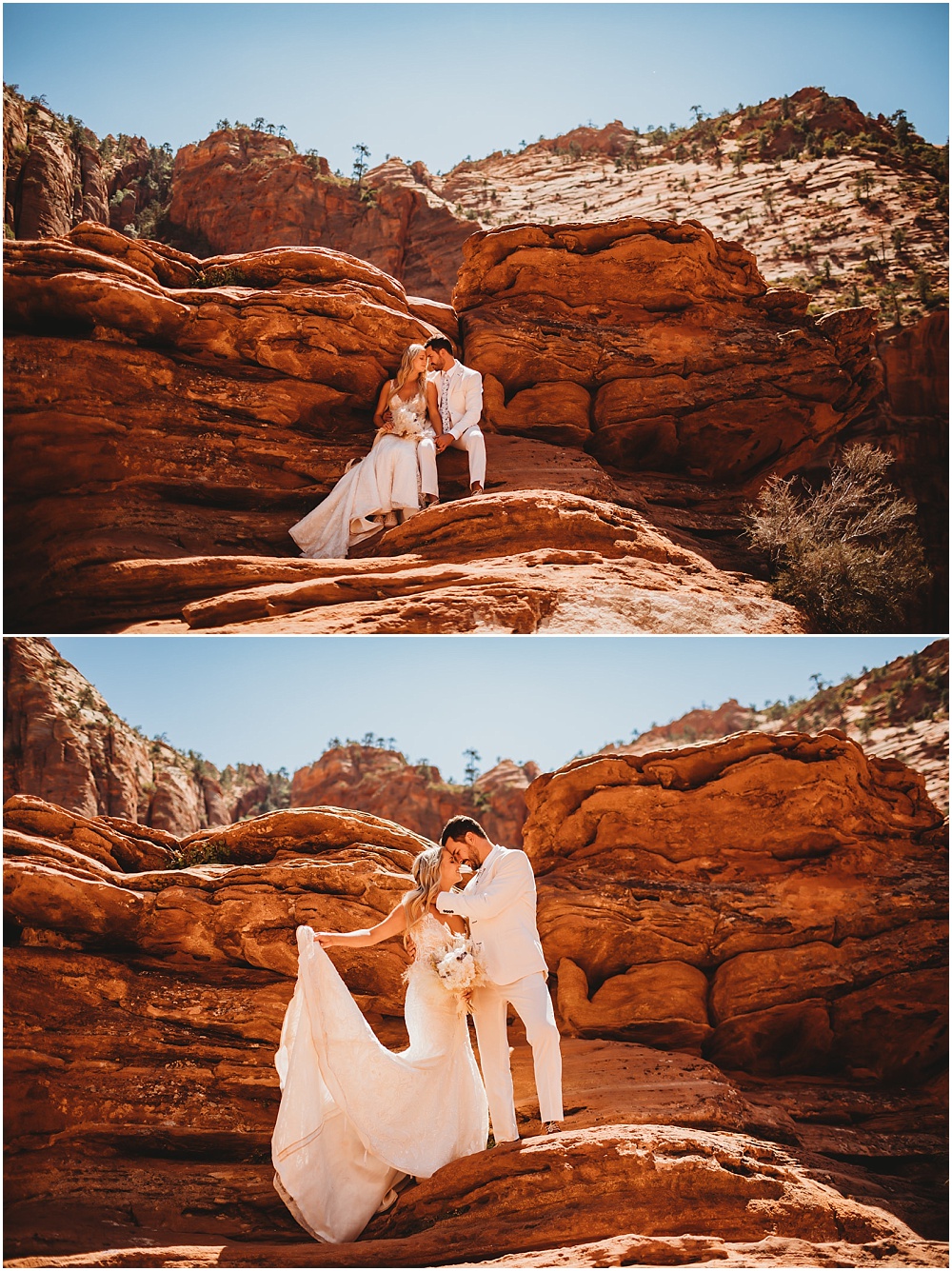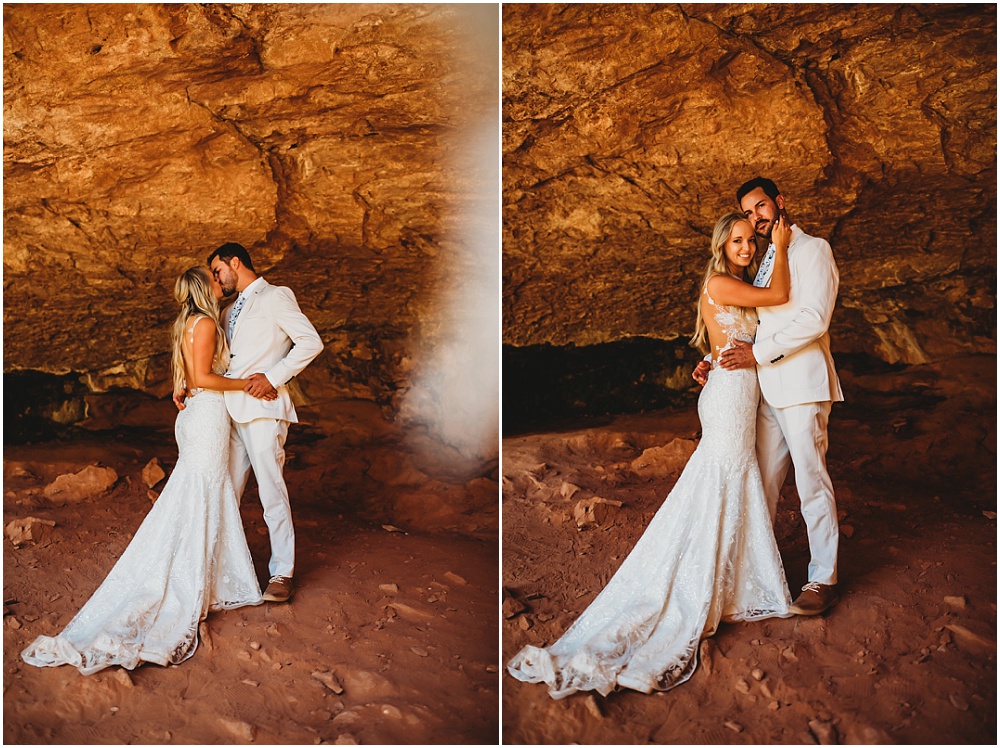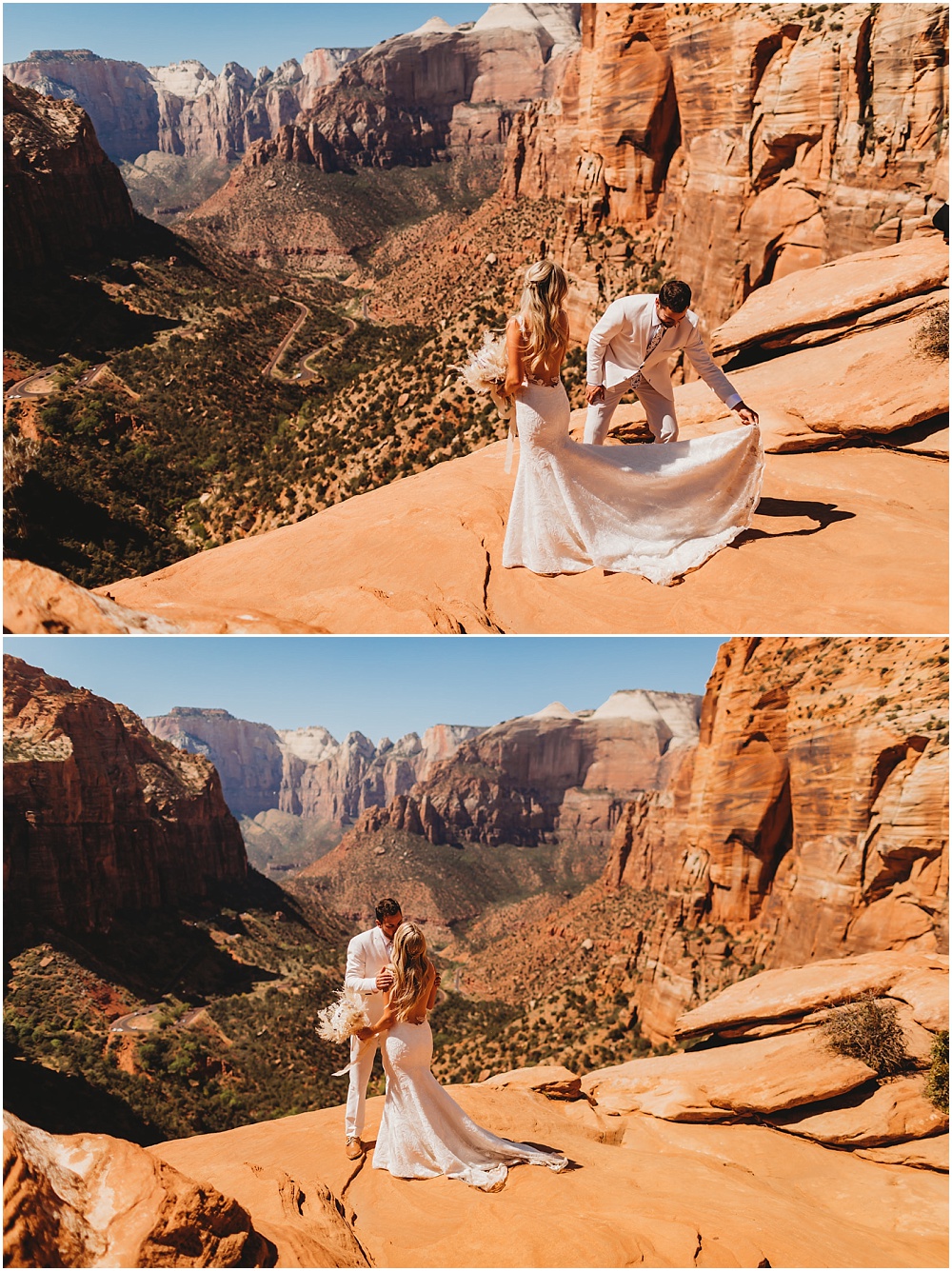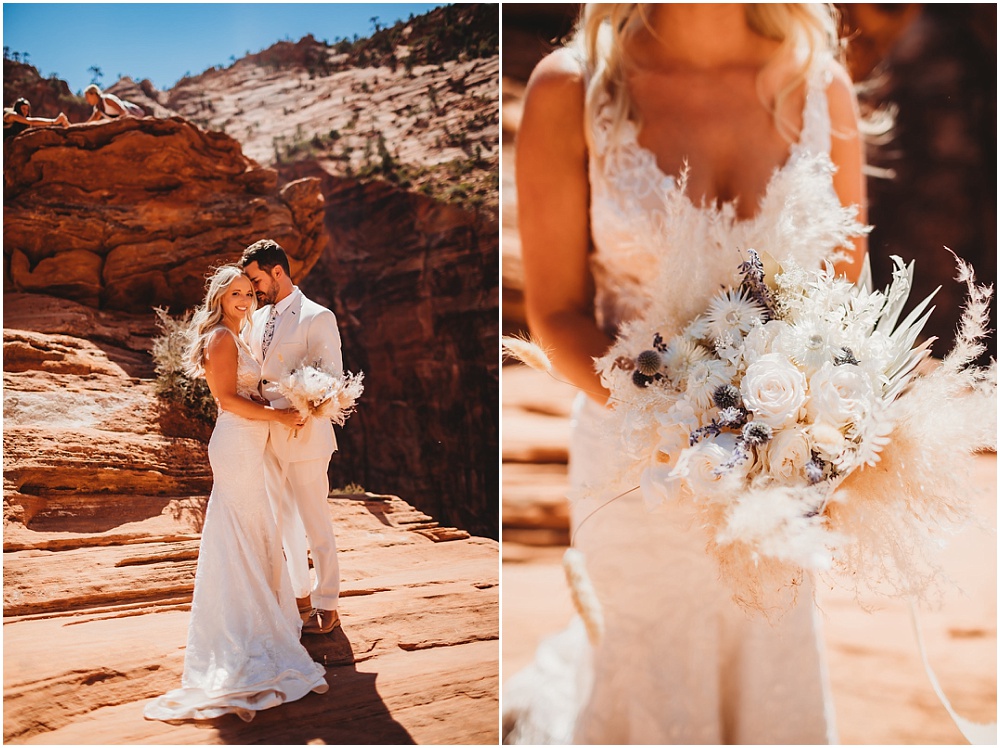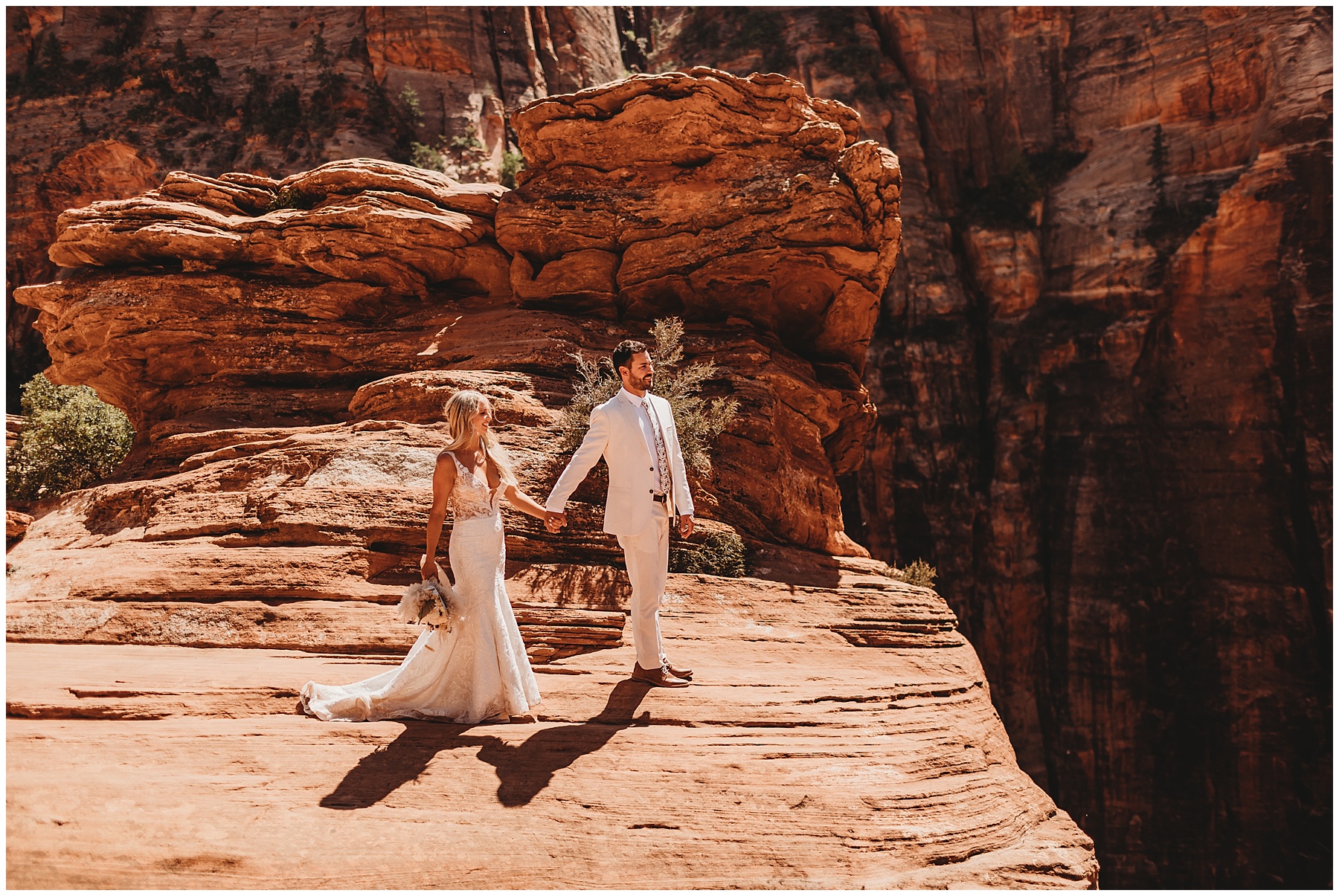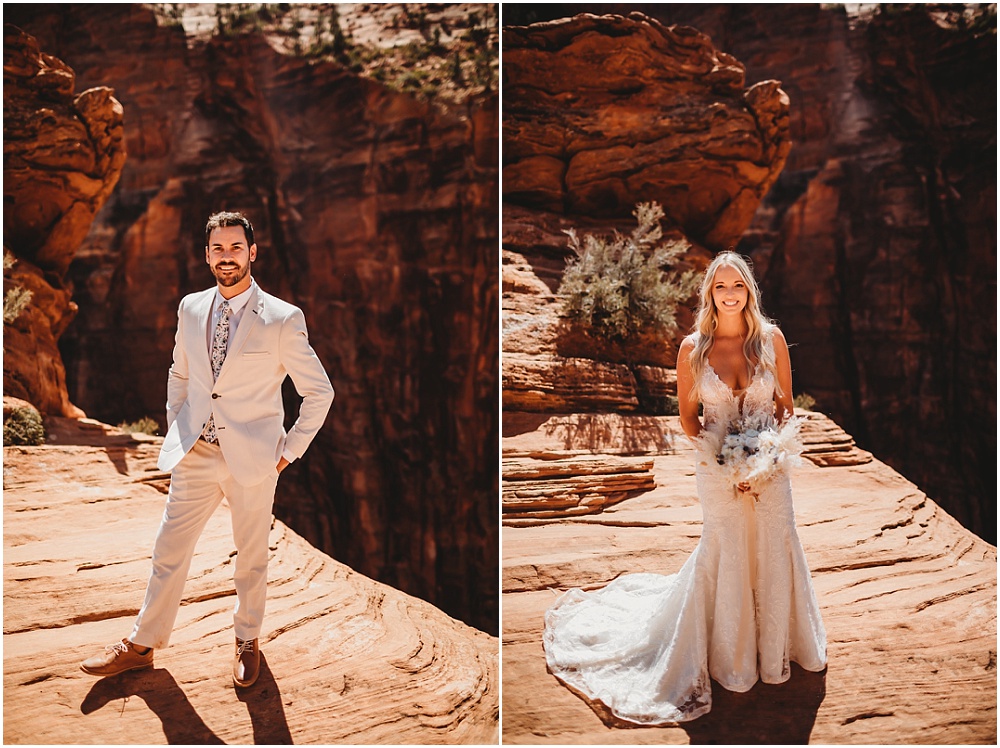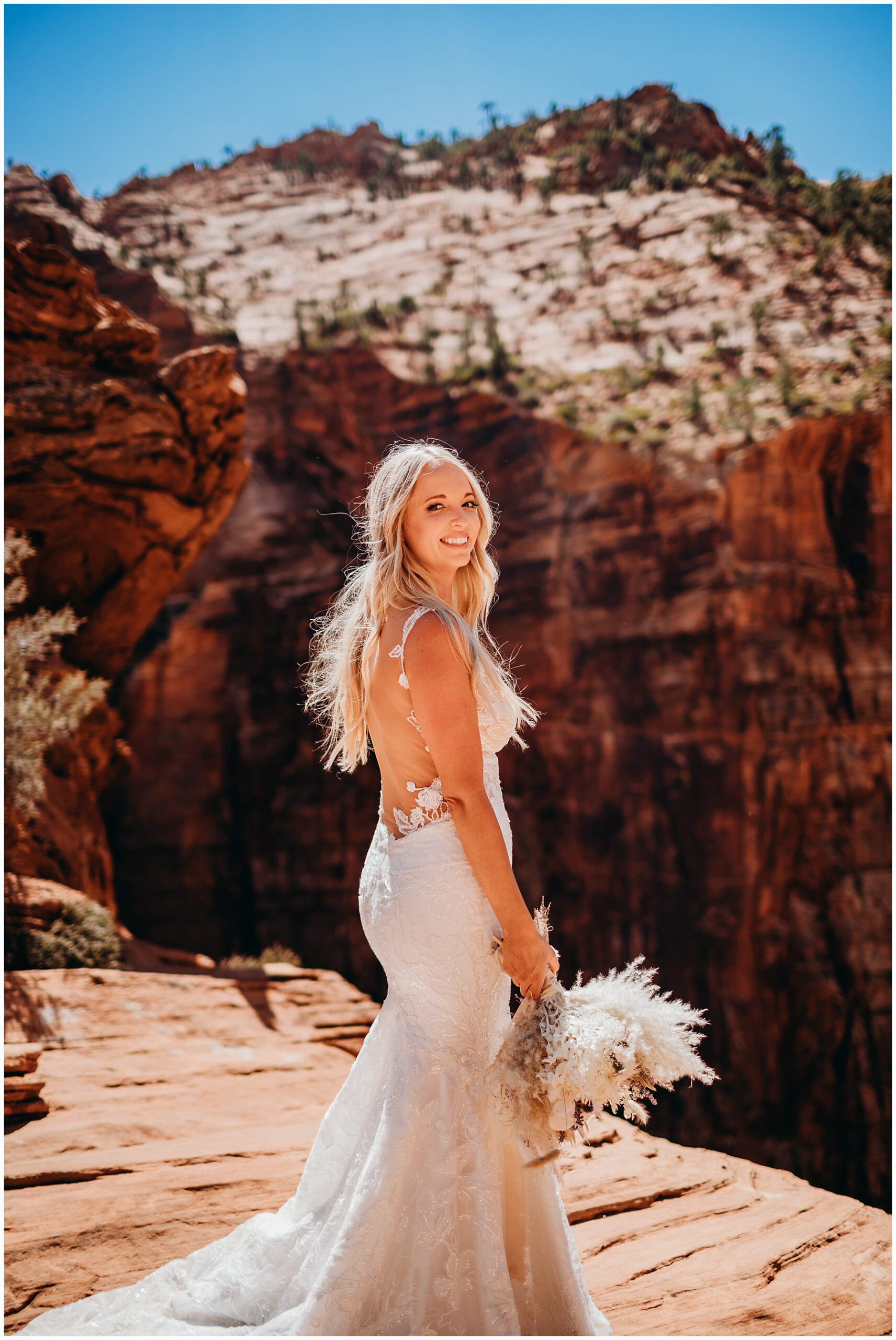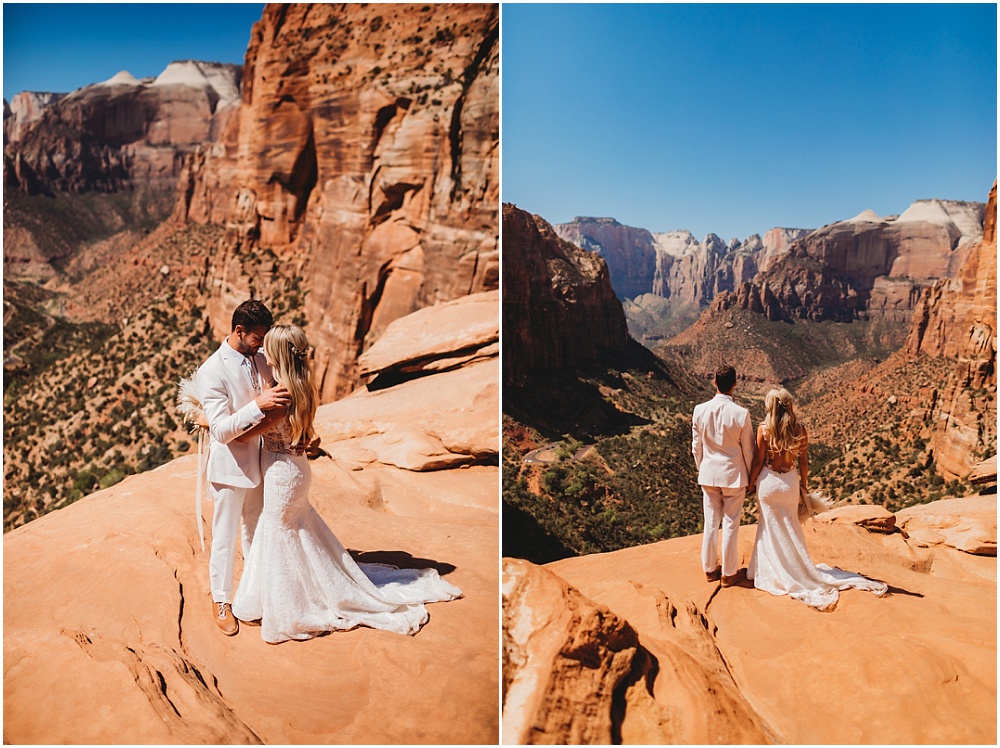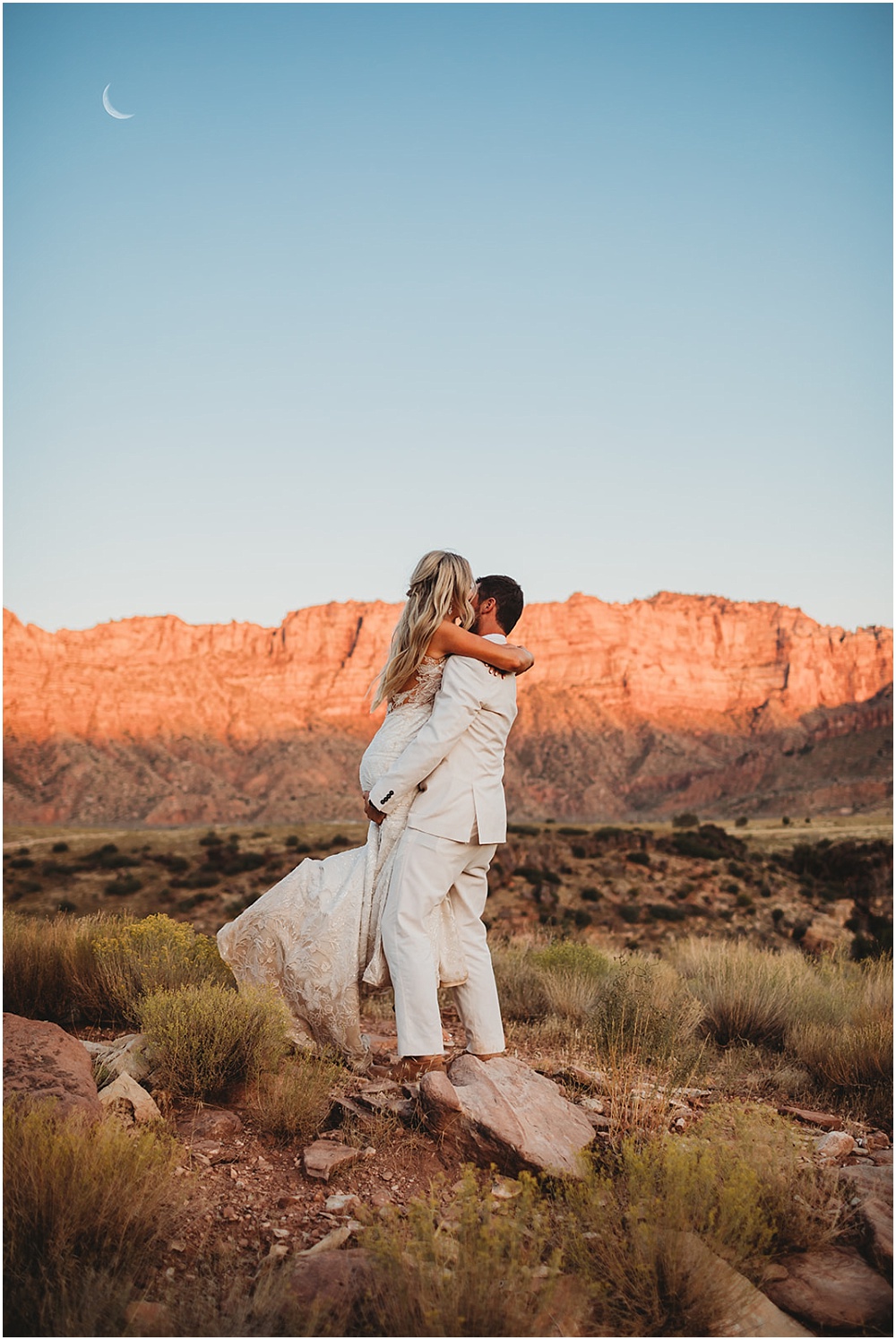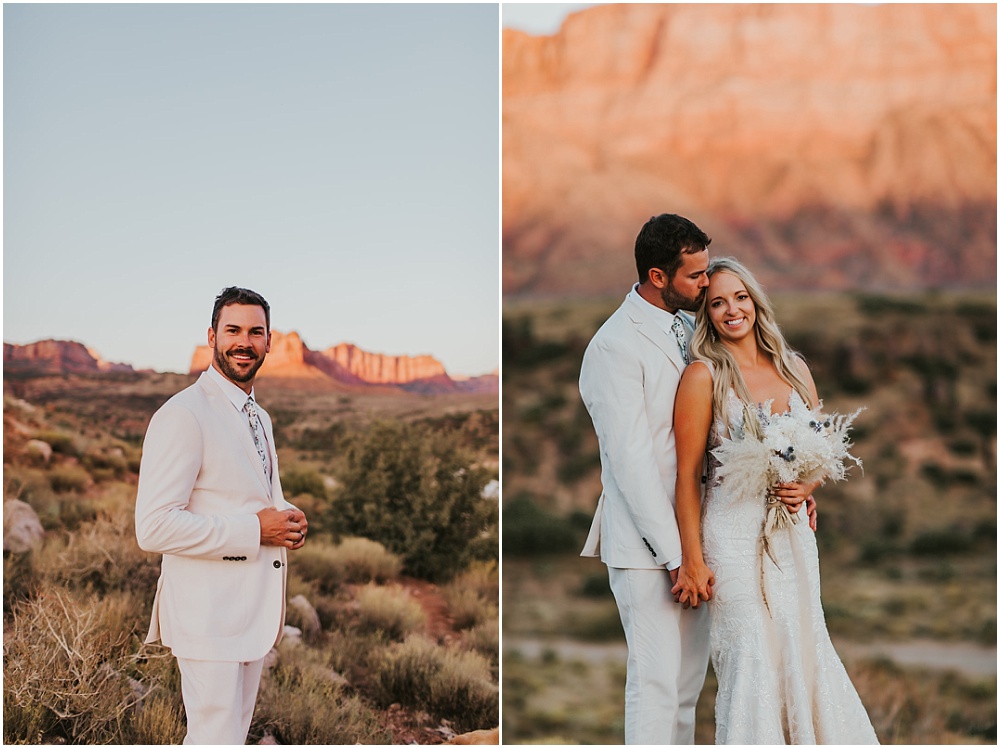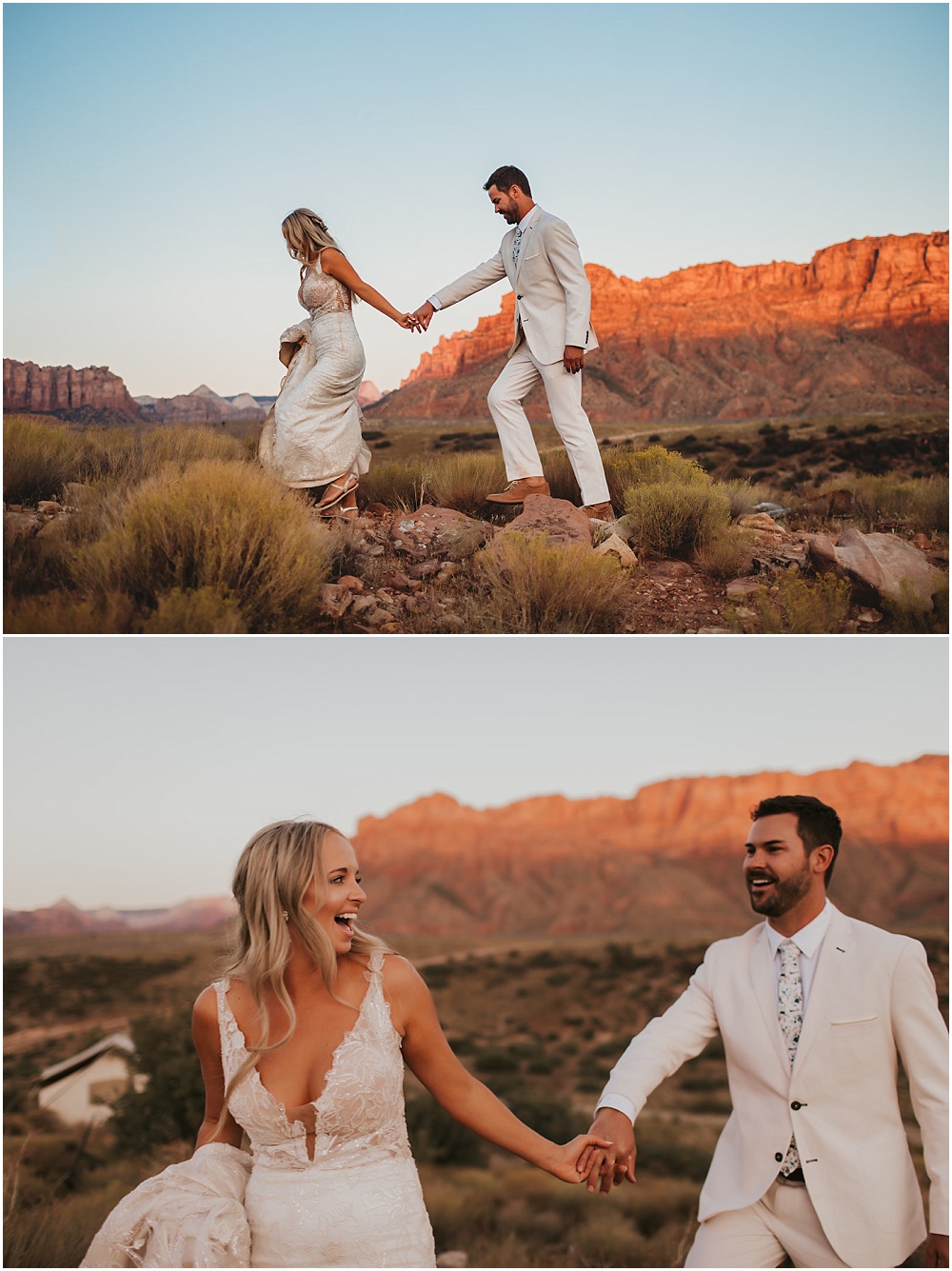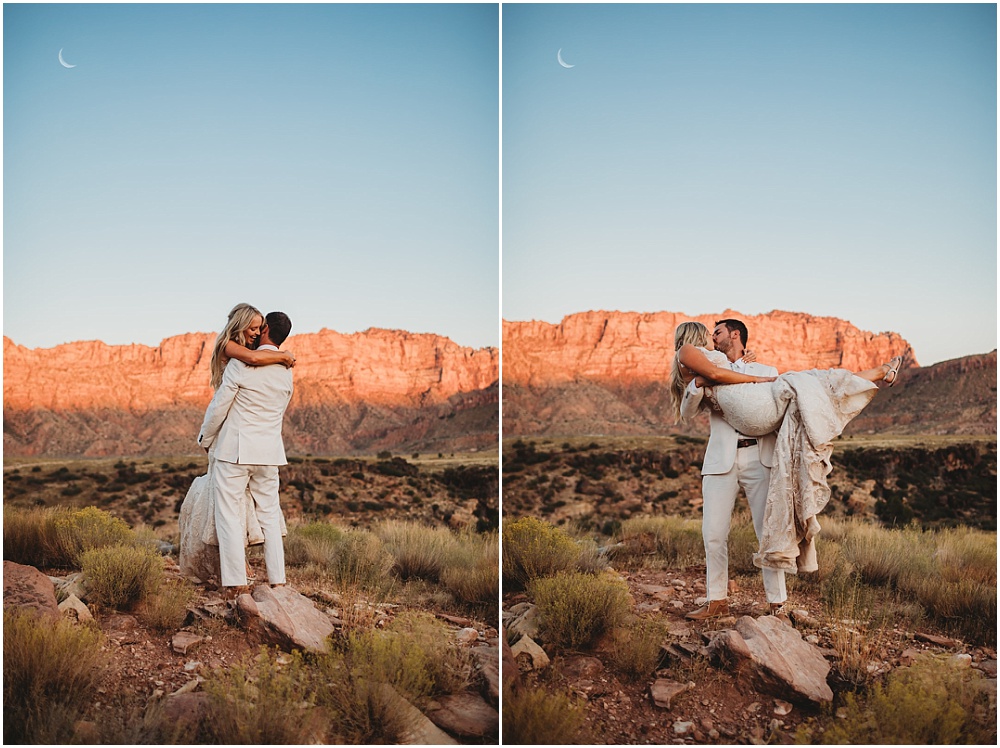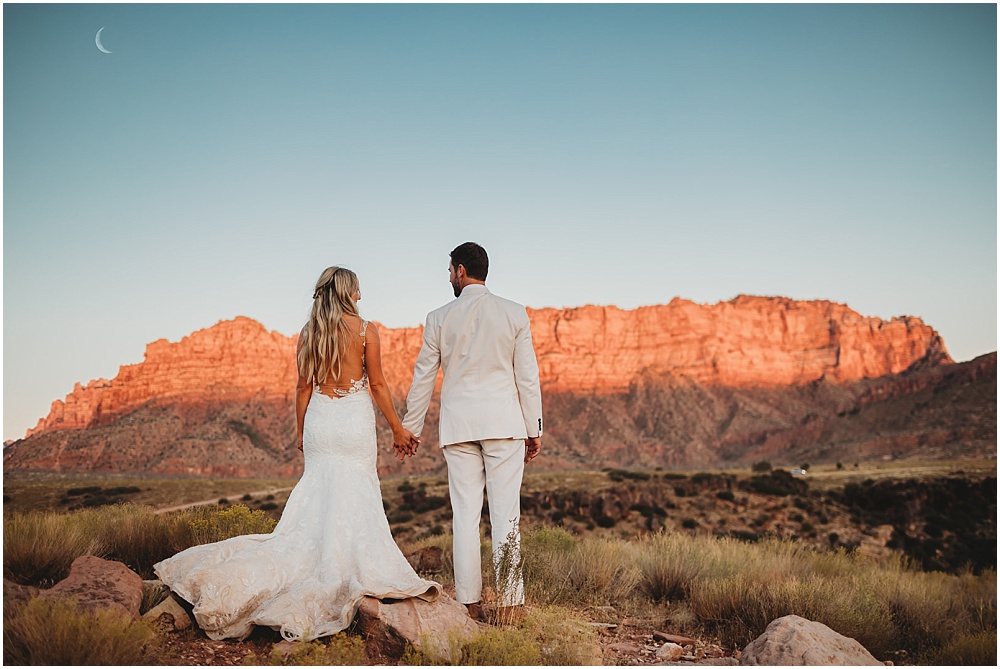 Mary is a champ! She hiked to the canyon overlook in her wedding dress and back like it was nothing. Everybody that passed was amazed by Mary. She was not even breaking a sweat in her gorgeous wedding gown while hiking to the huge overlook. After we hiked back, she freshened up, and then we drove down the road a little bit to the ceremony site. It was the most romantic and beautiful backdrop of red cliff and mesas all around. The ceremony was intimate and full of so much love. Even though they did not get their 200 guests wedding it was 30 of their closest friends and family and you could not have asked for more. It truly was an unexpected magic-filled day celebrating Mary and Jordan in Zion.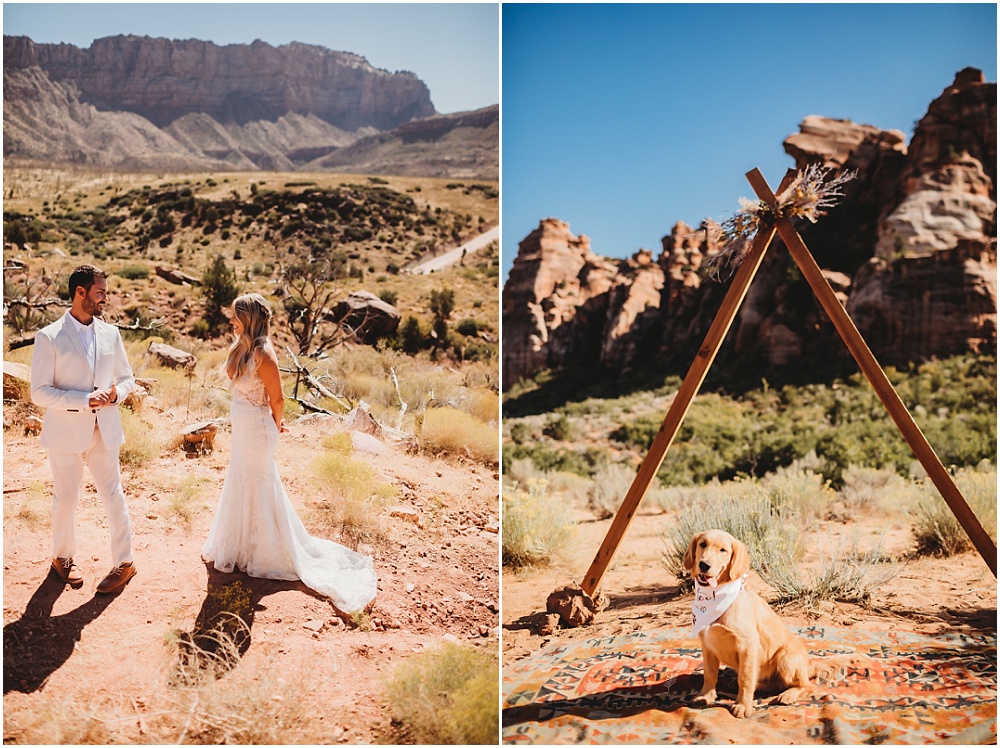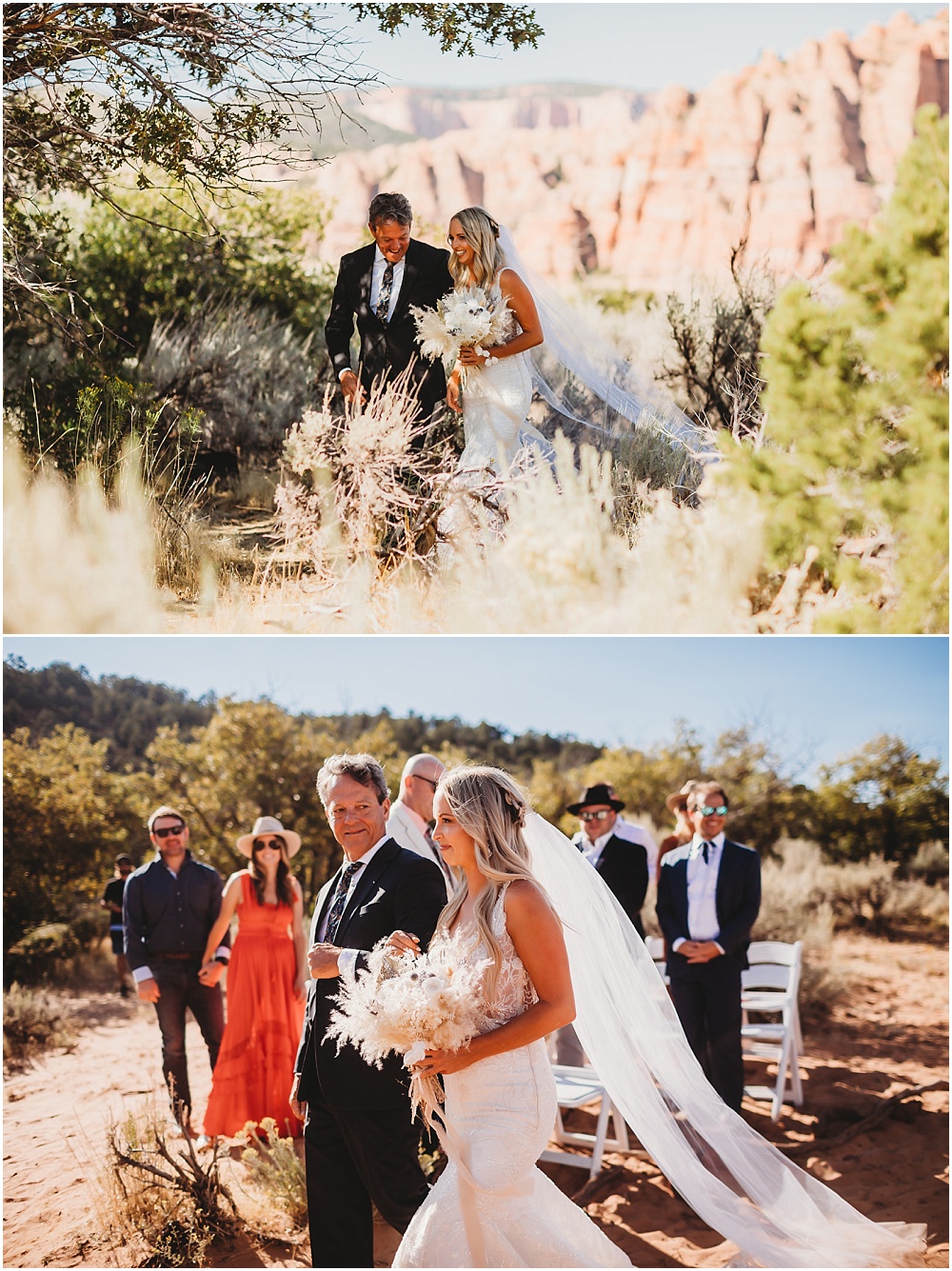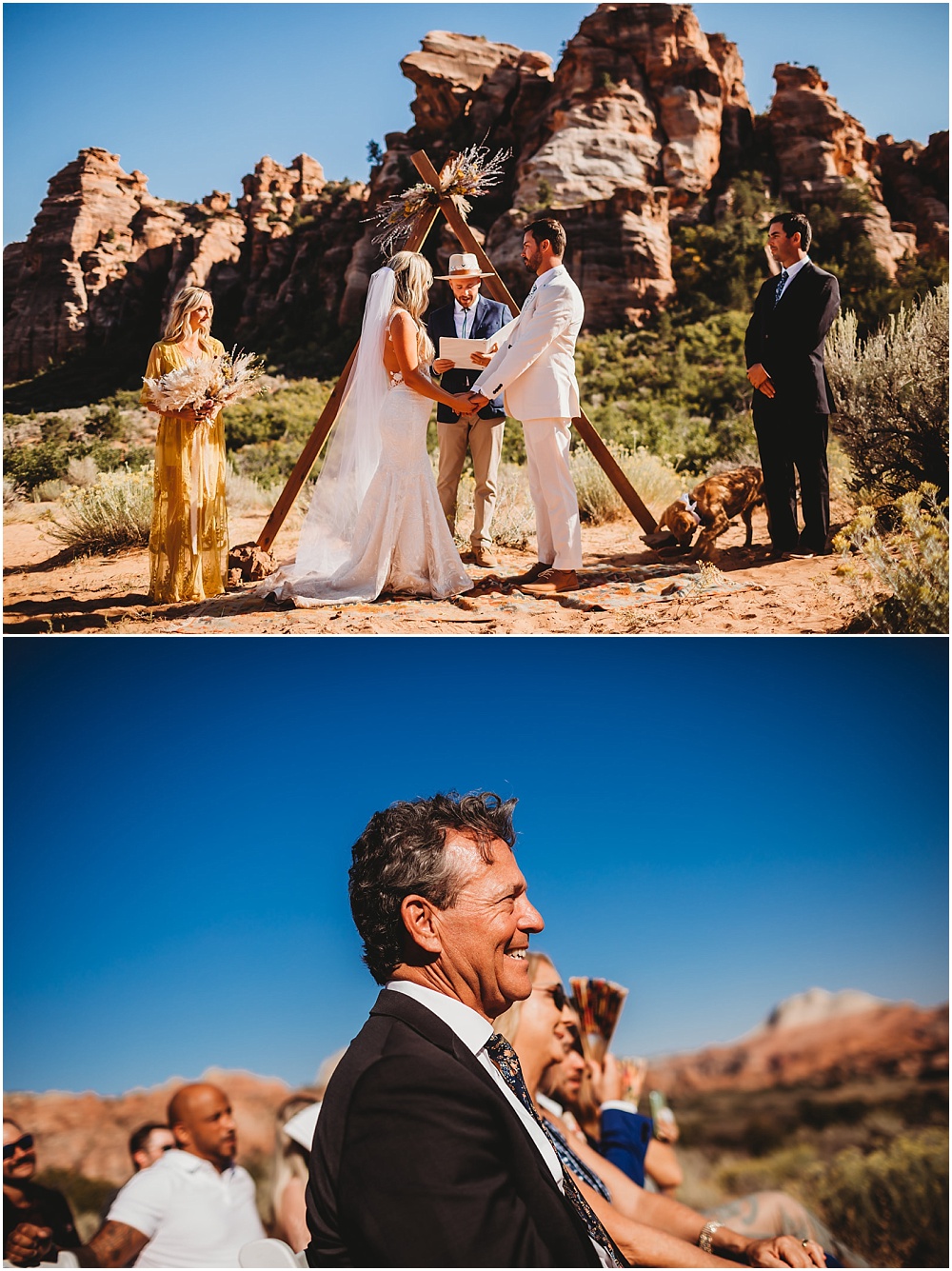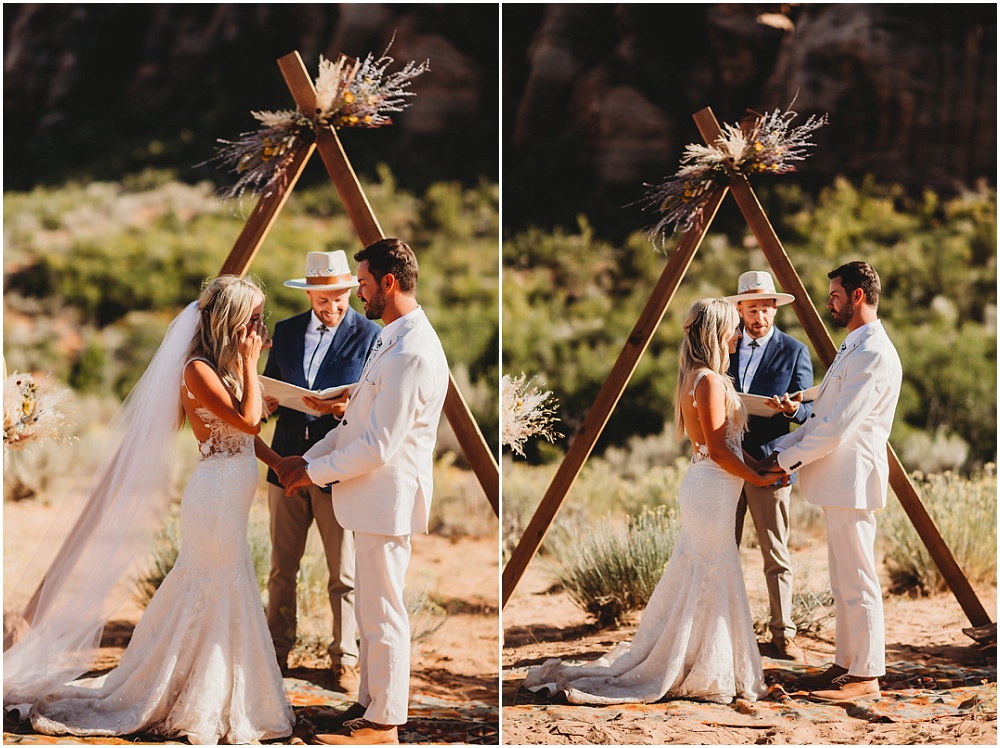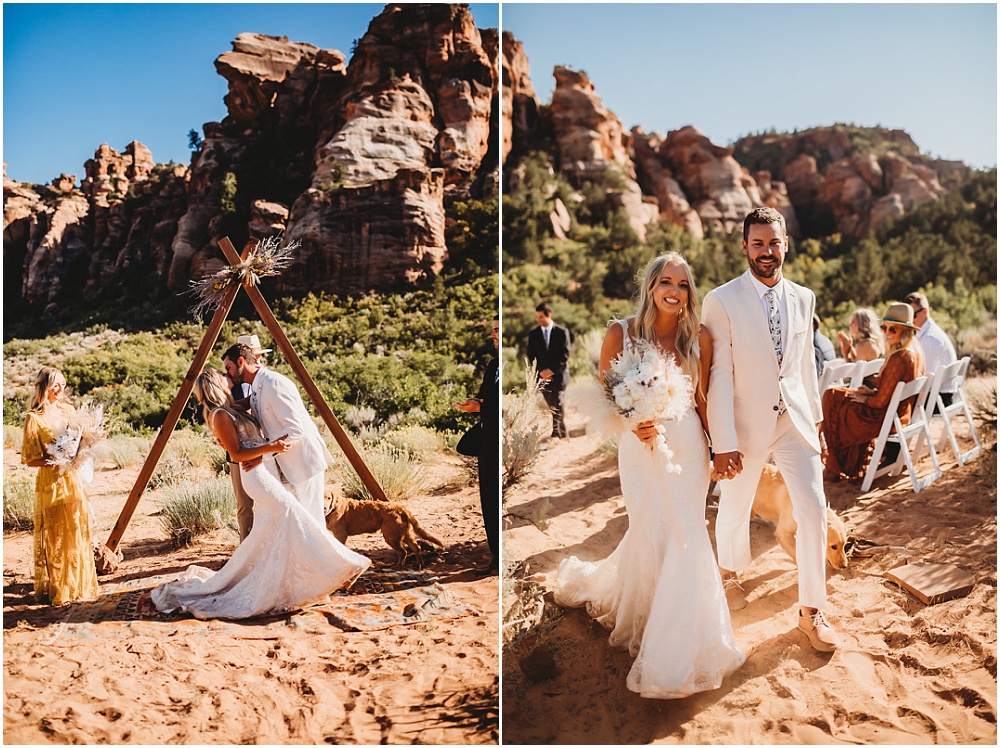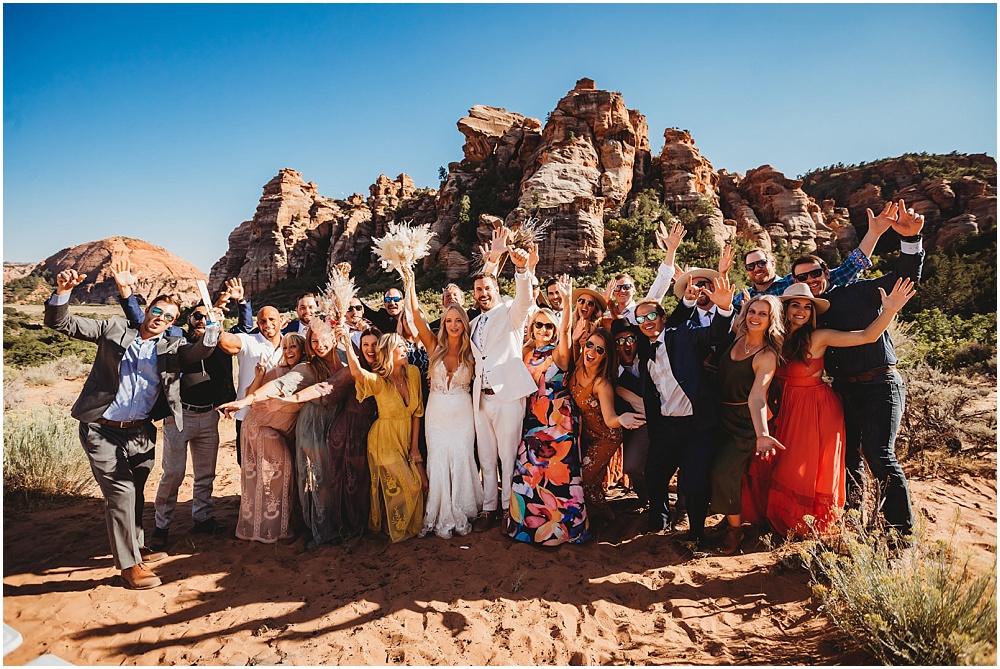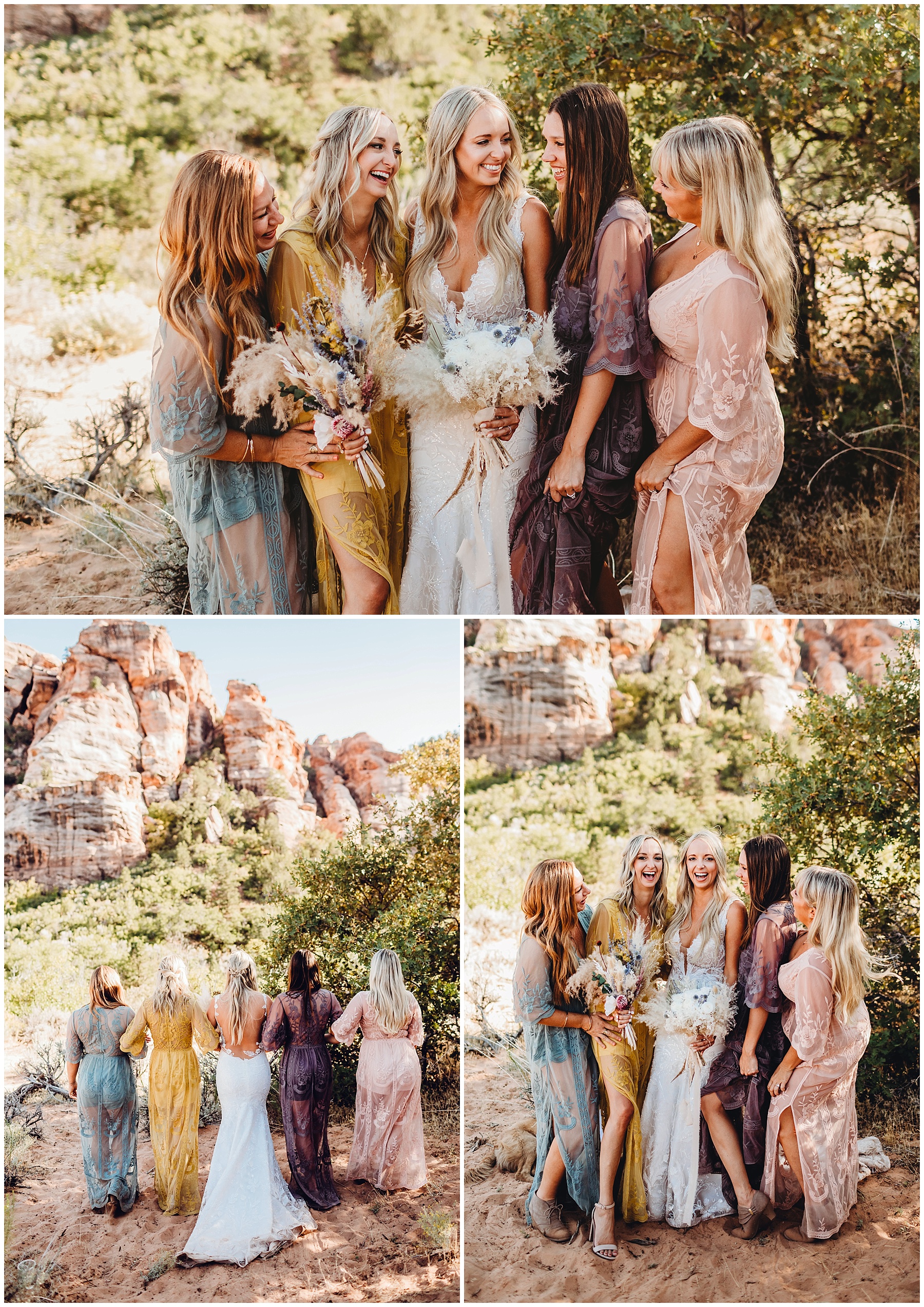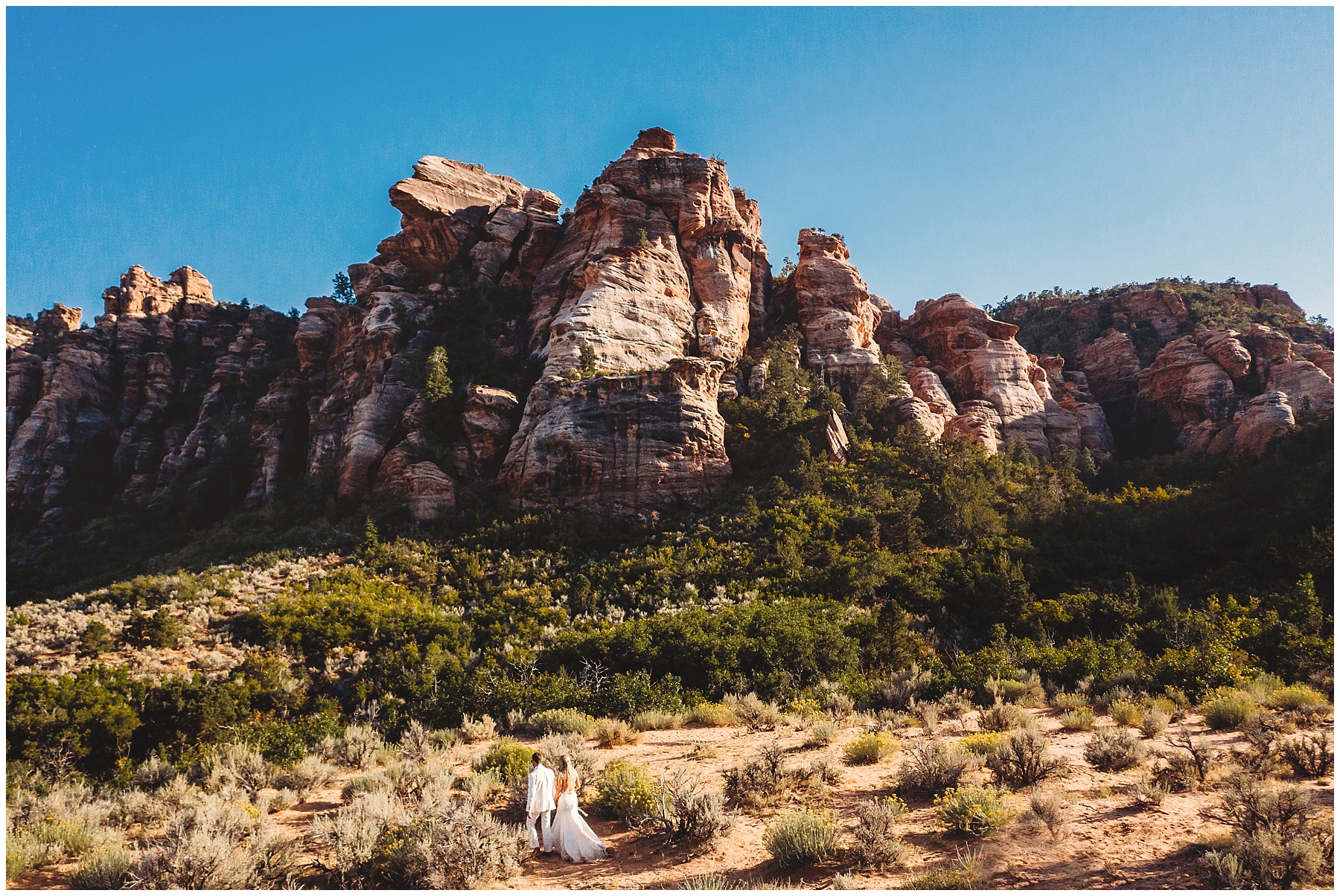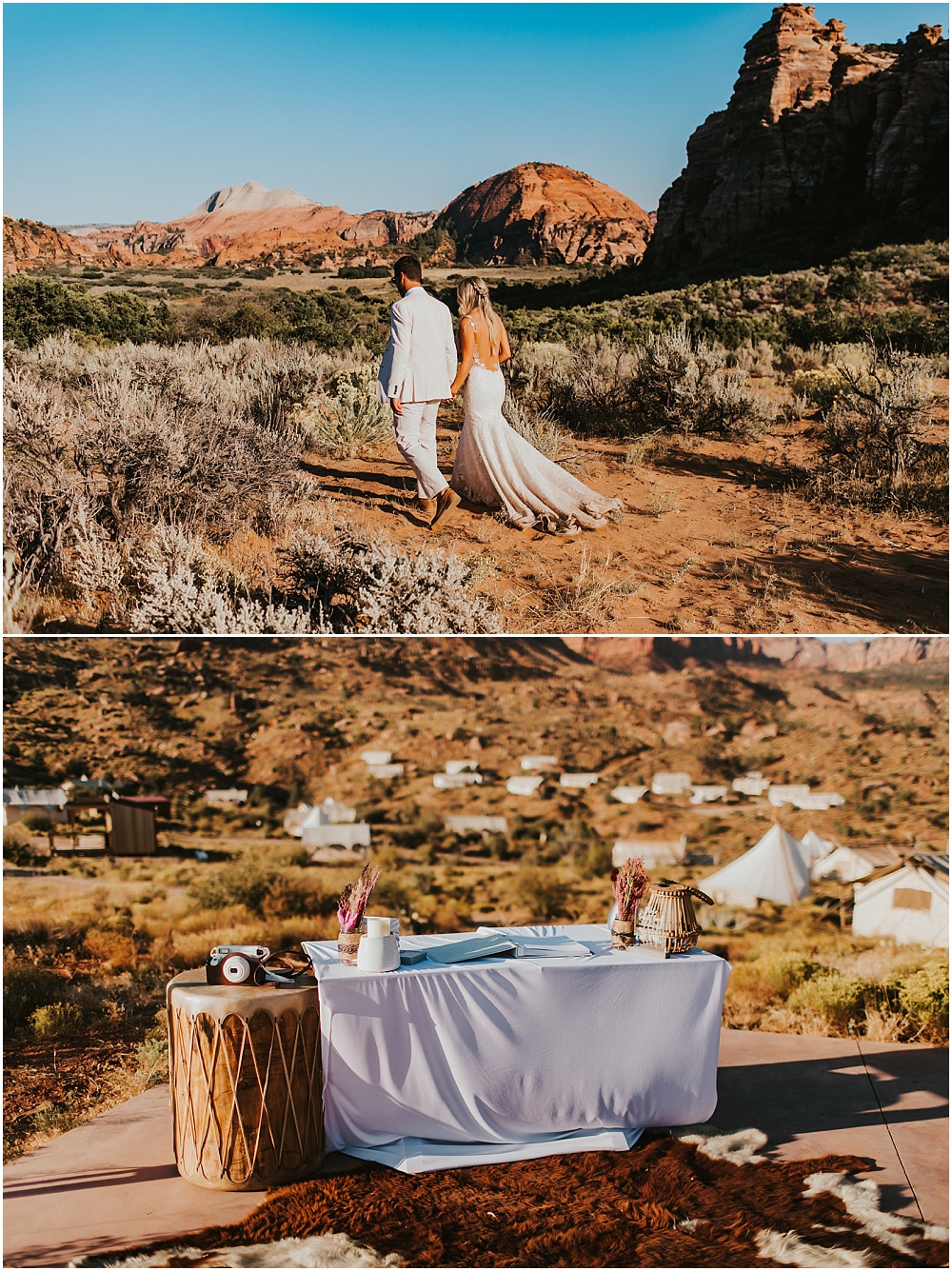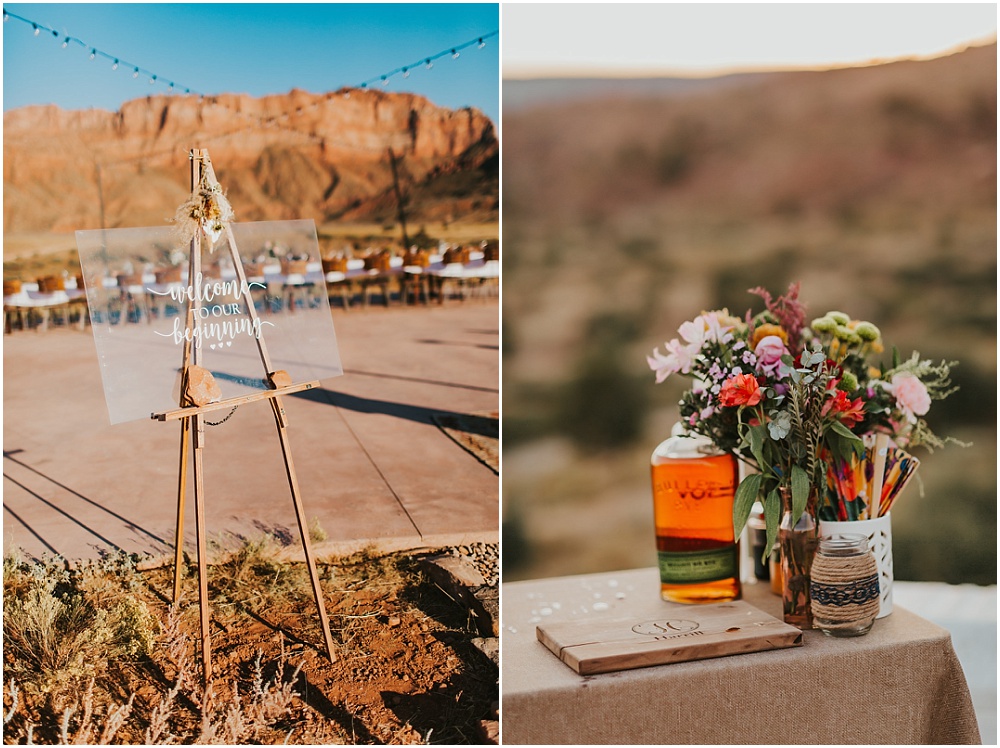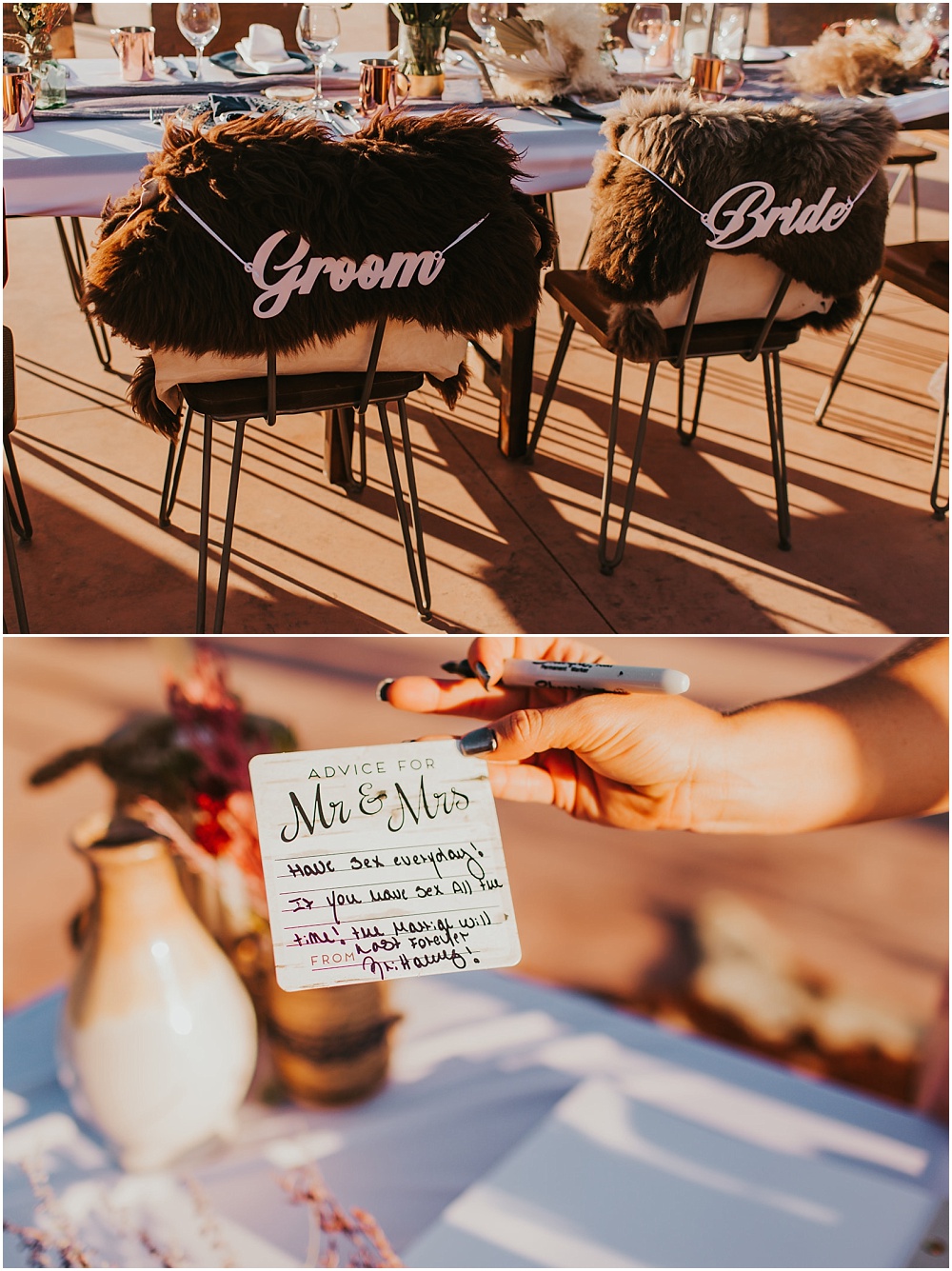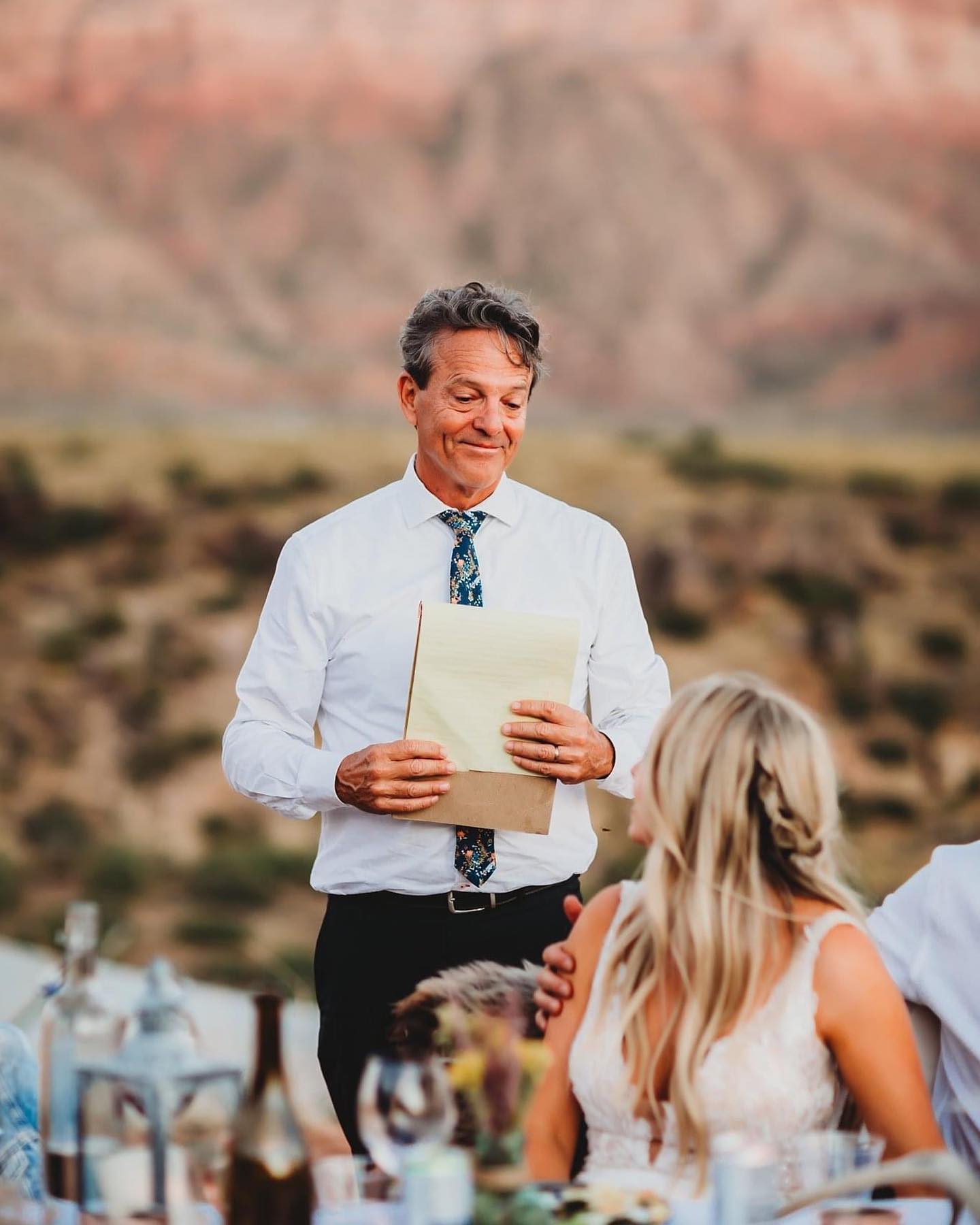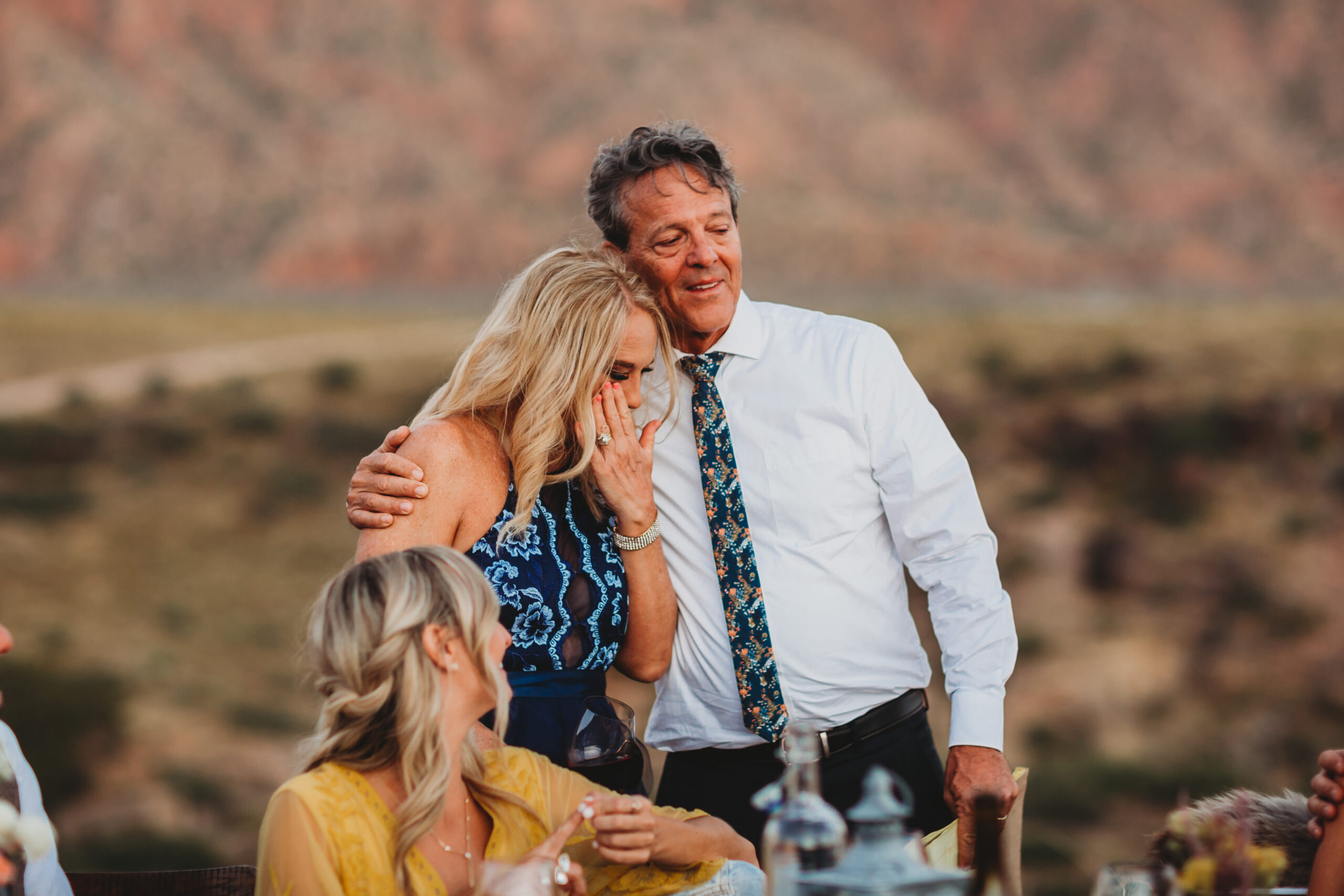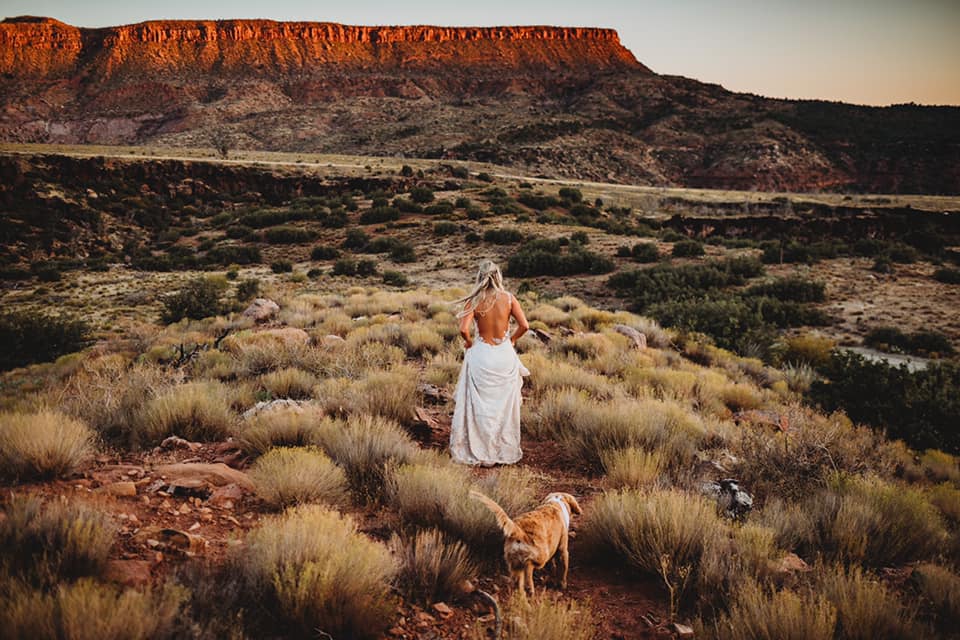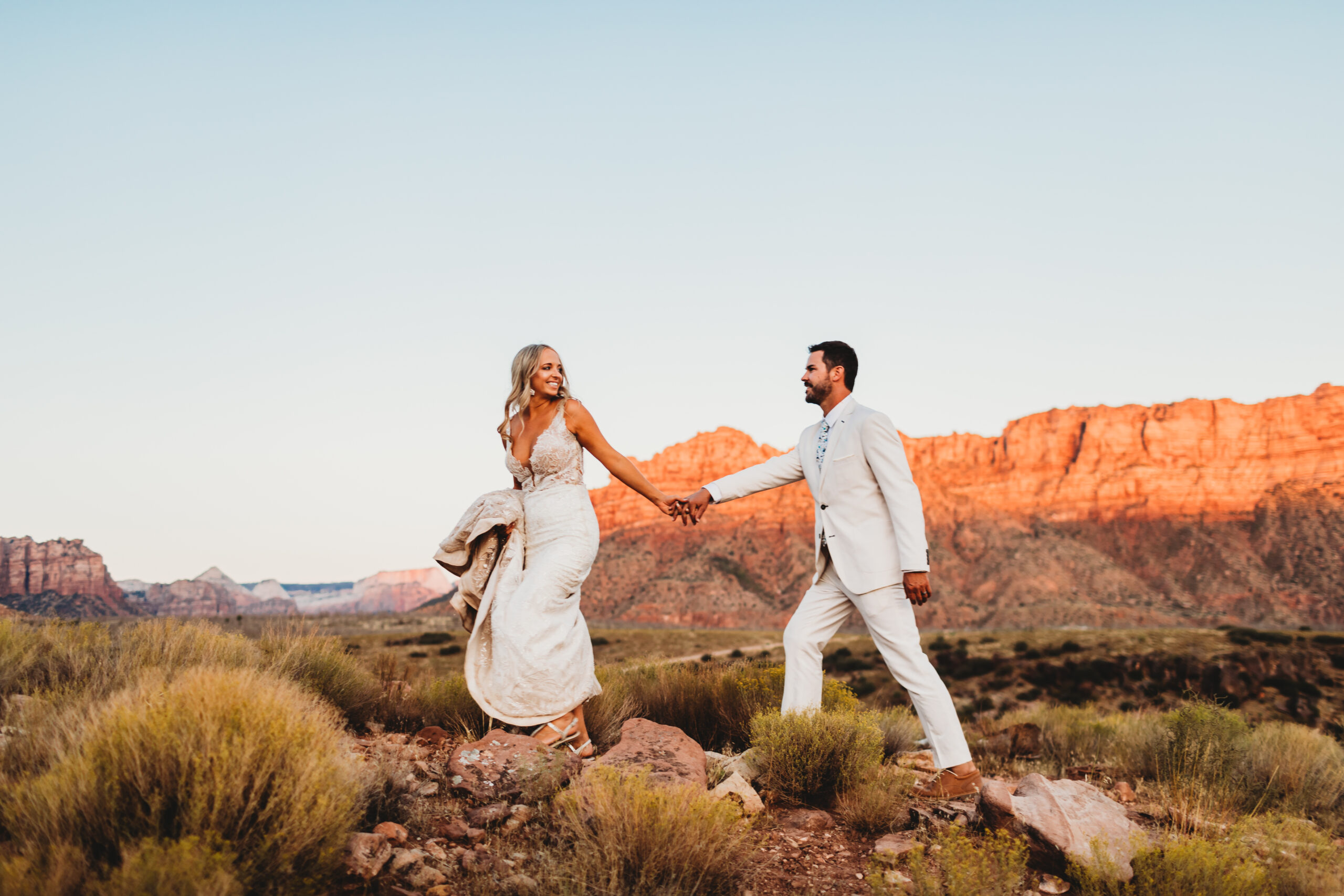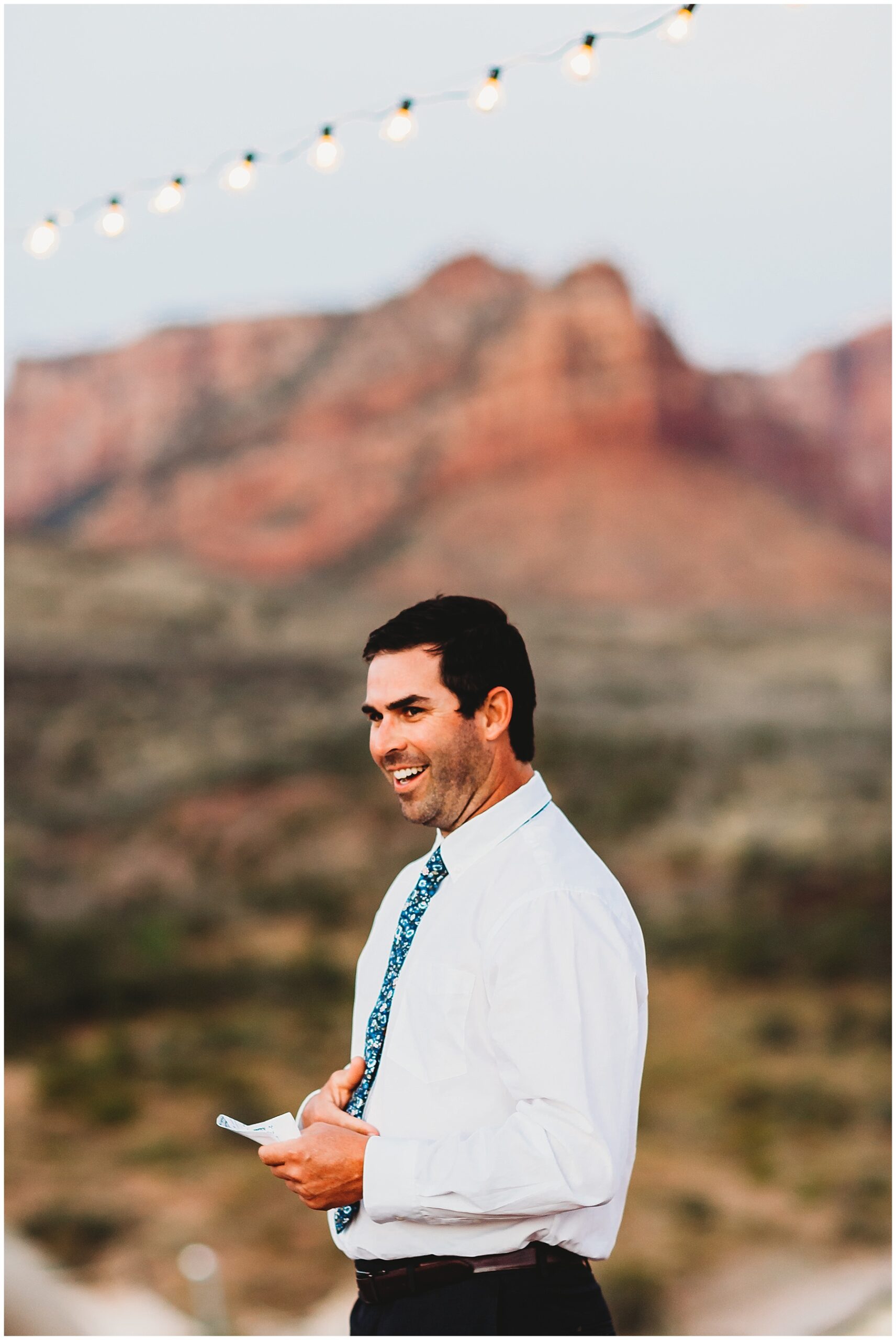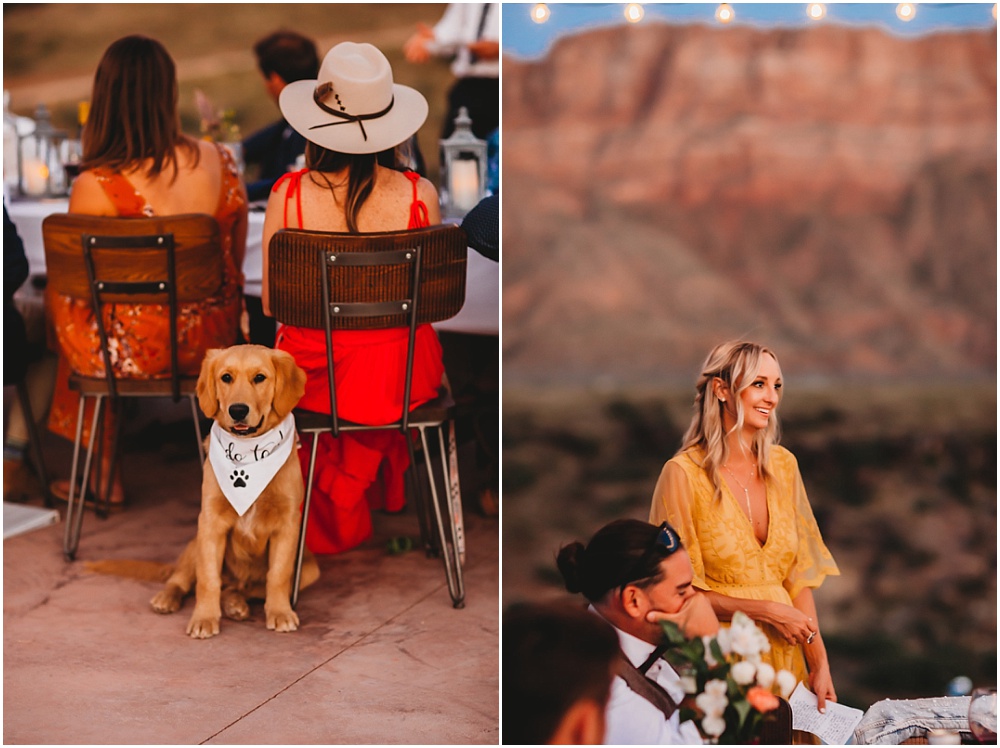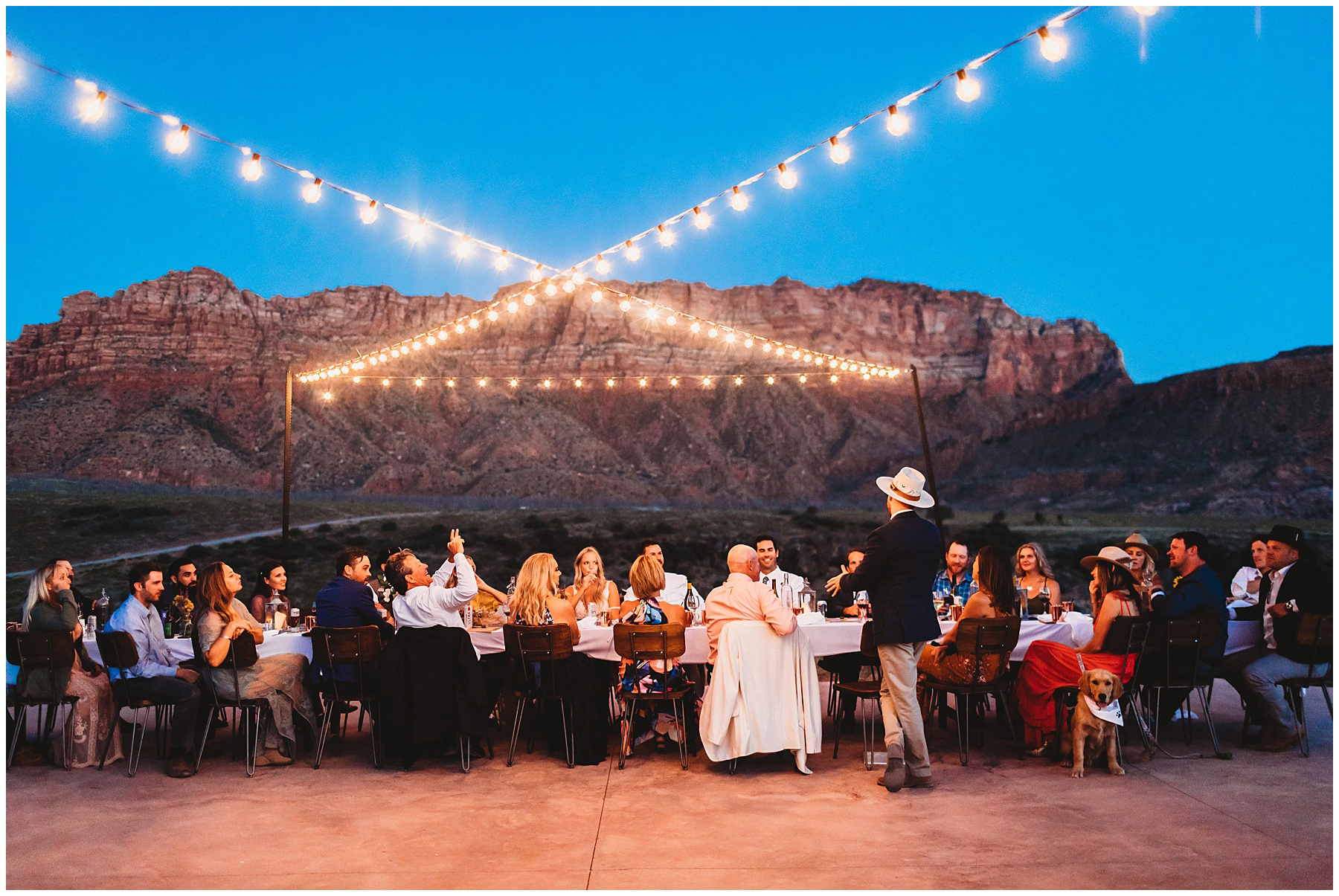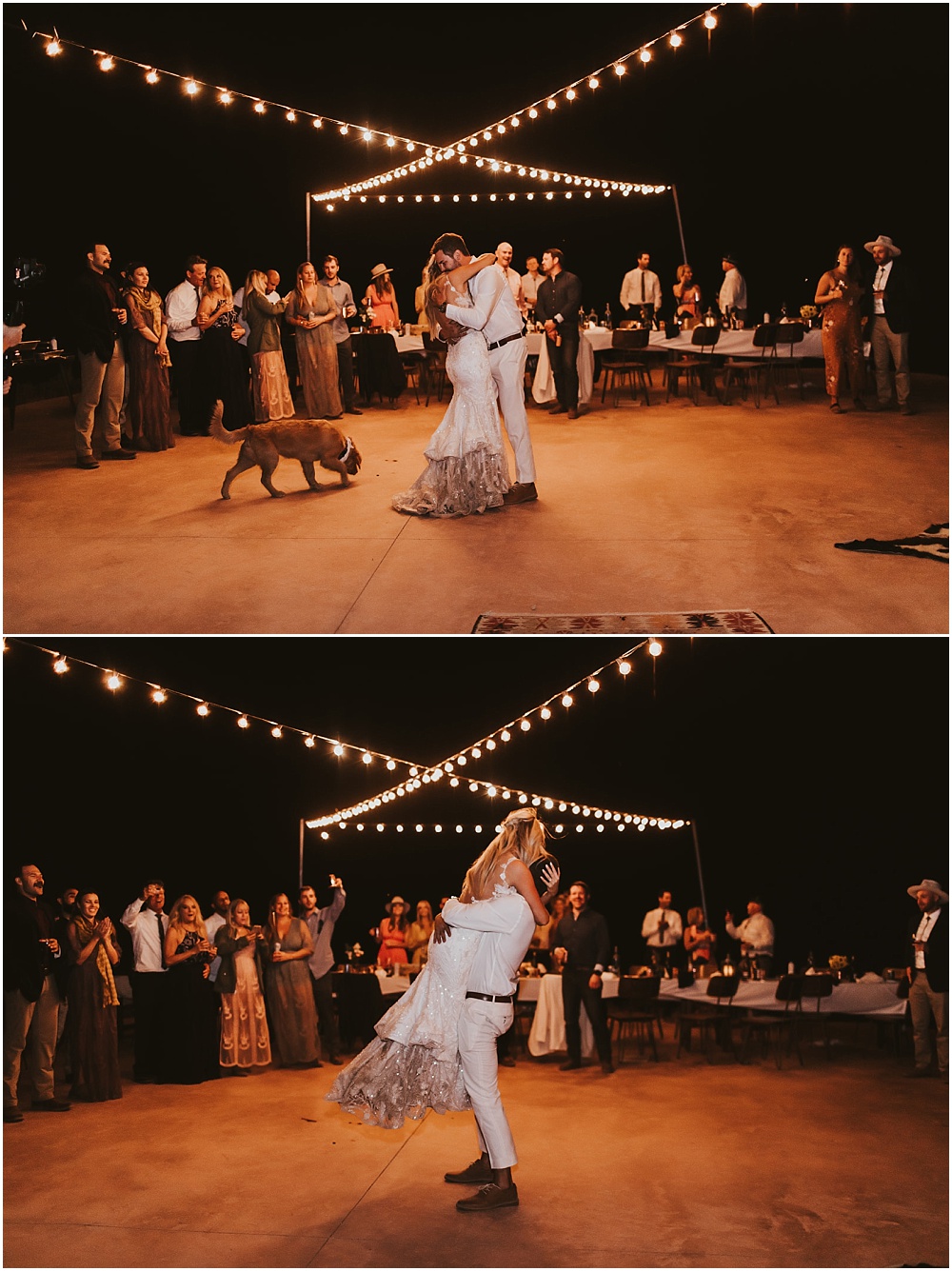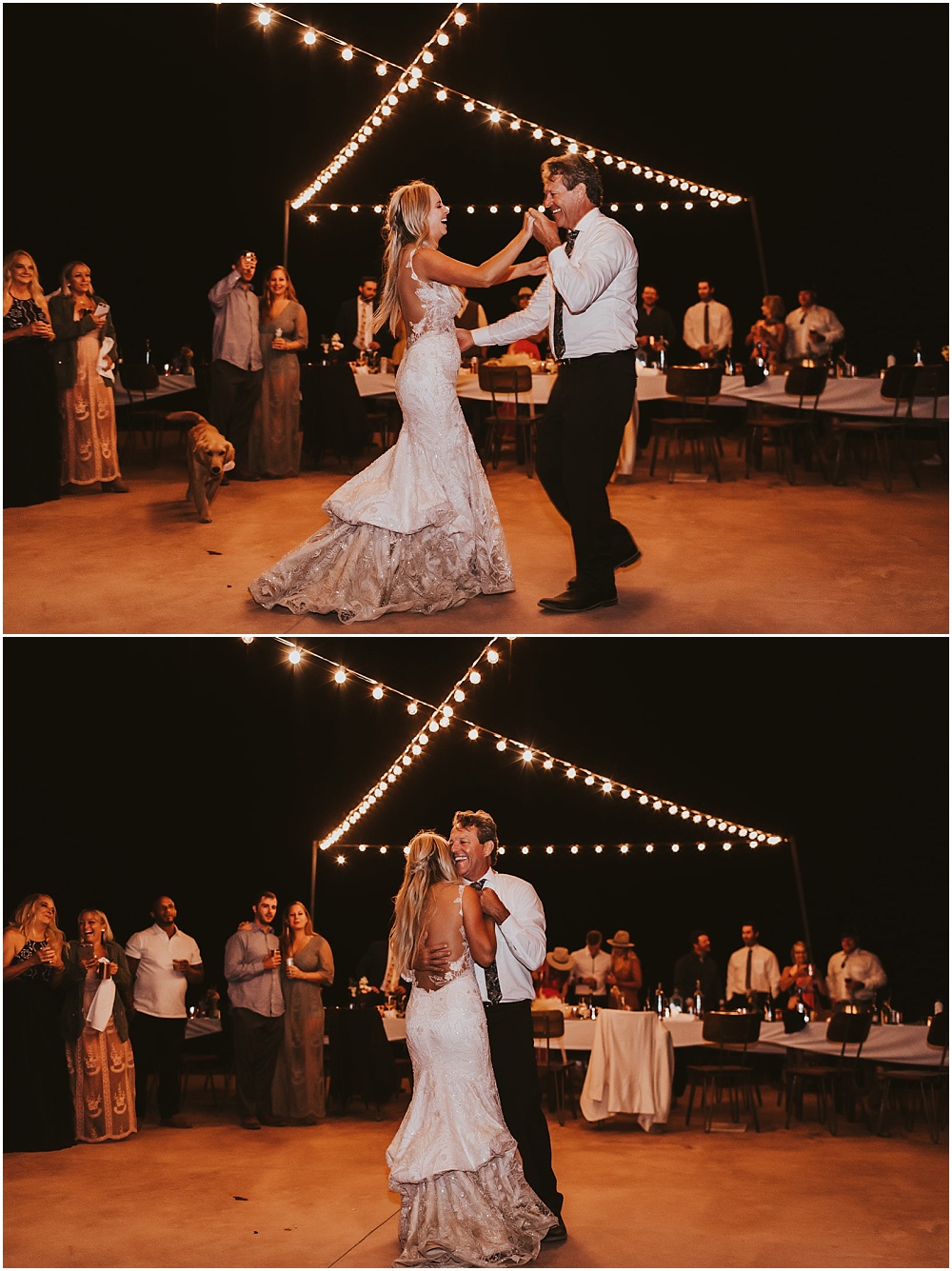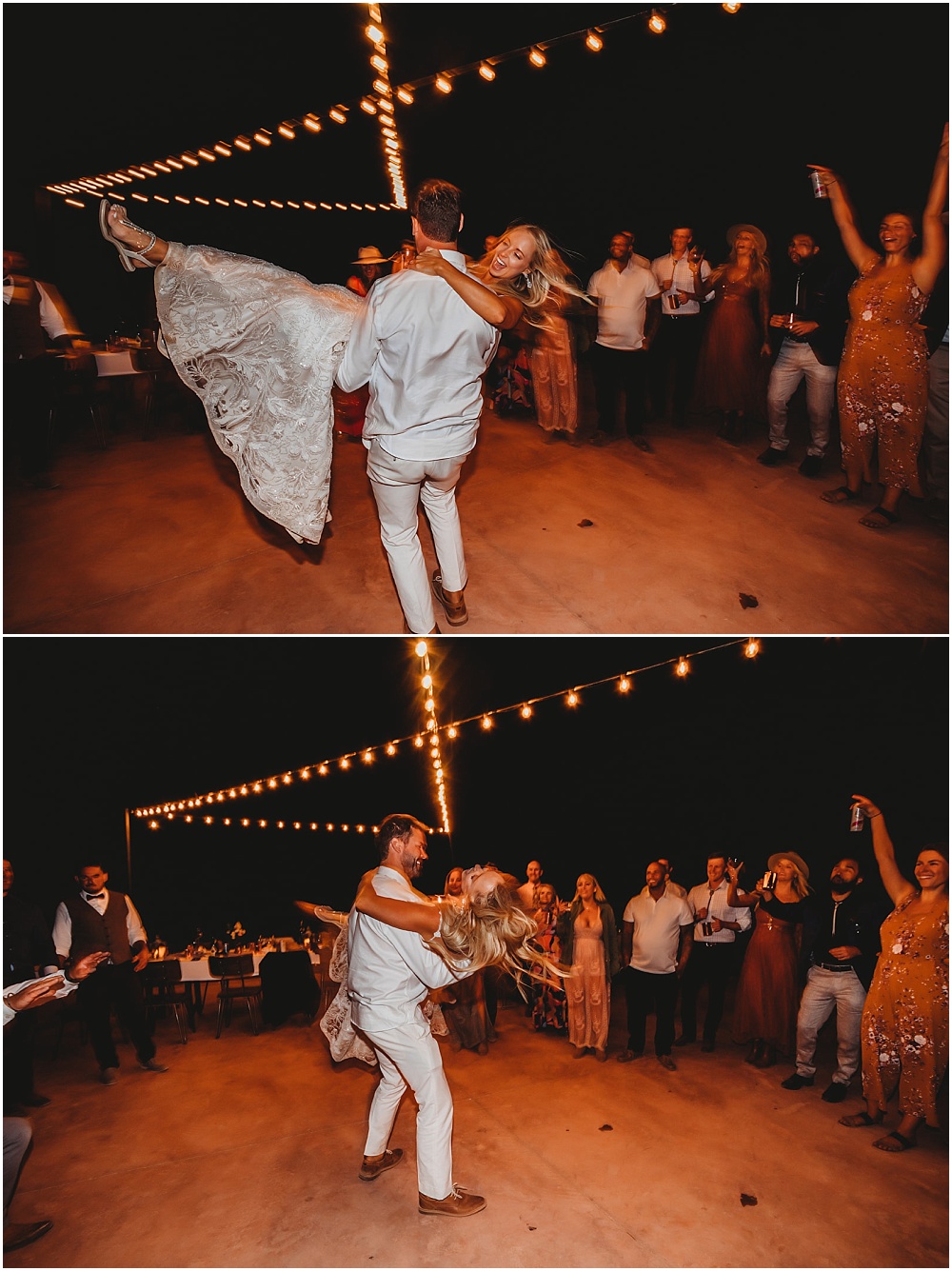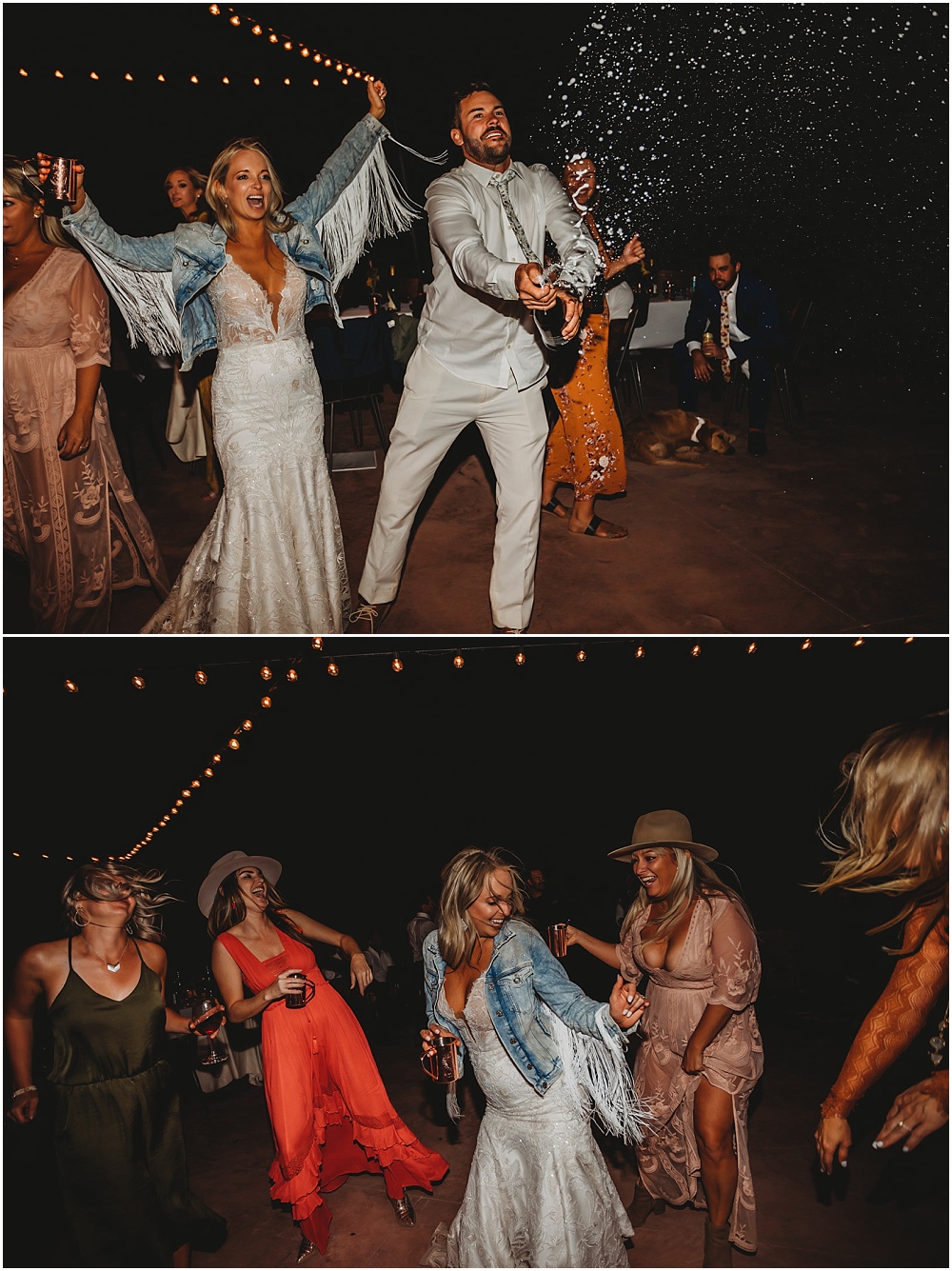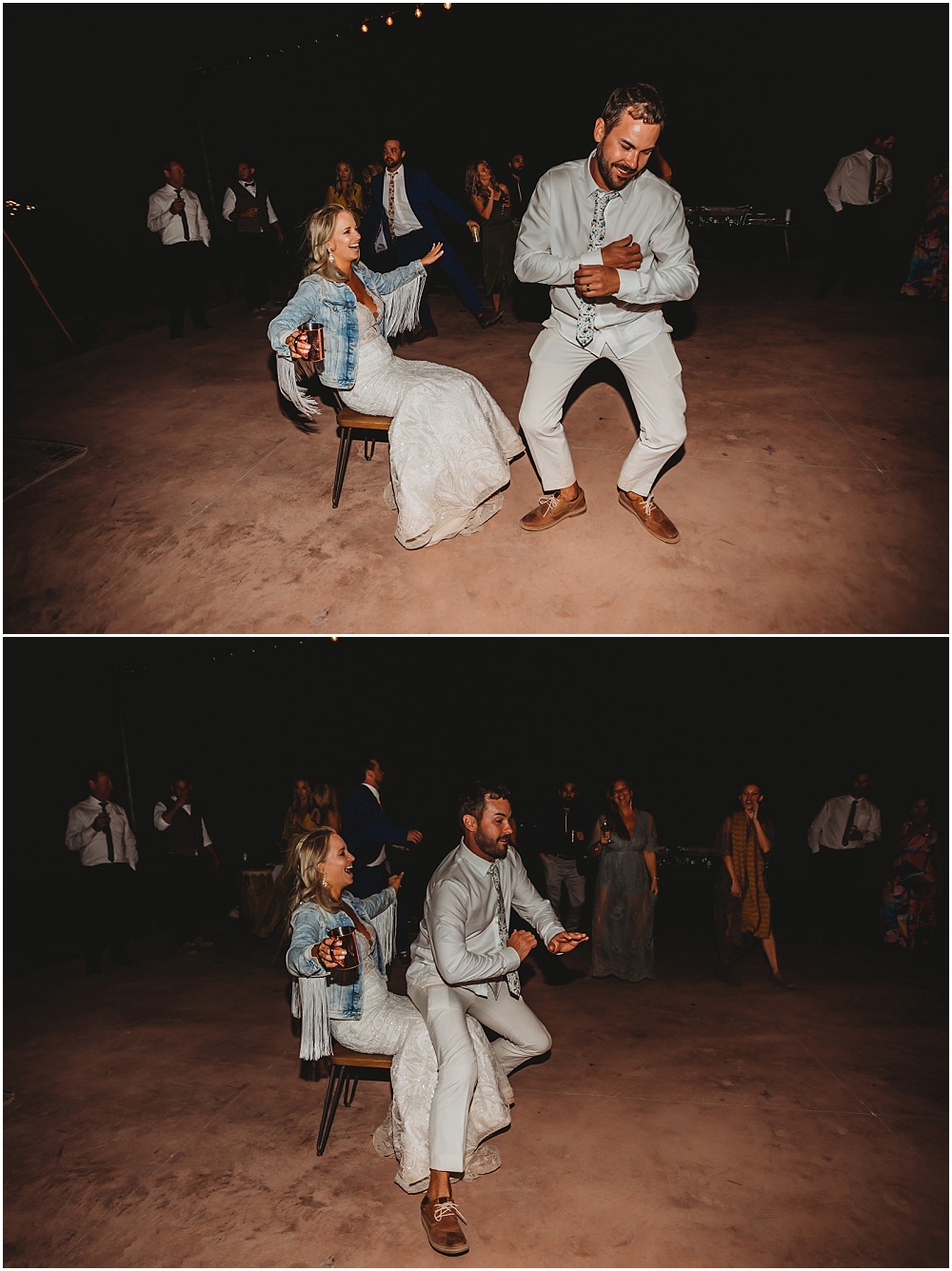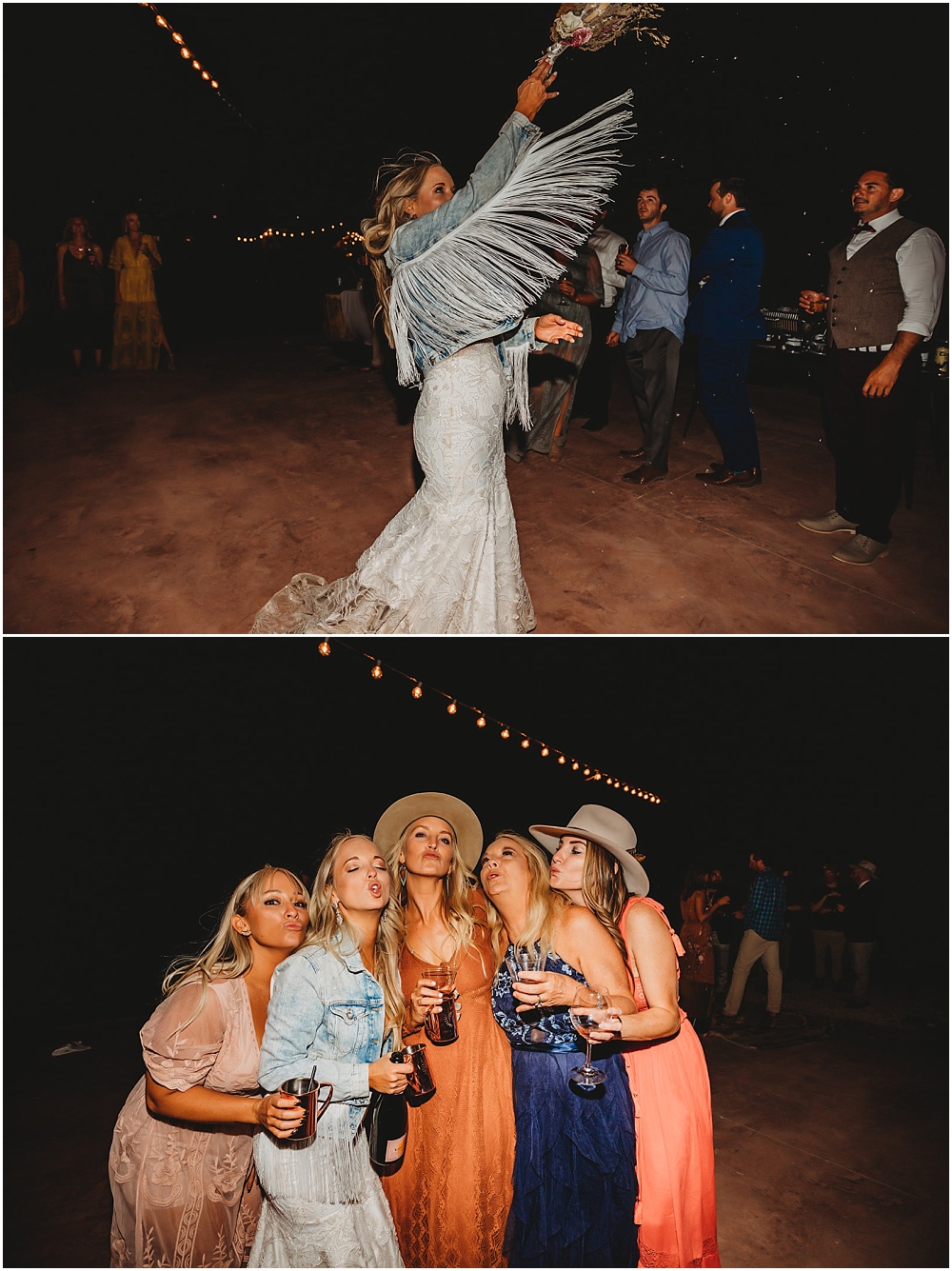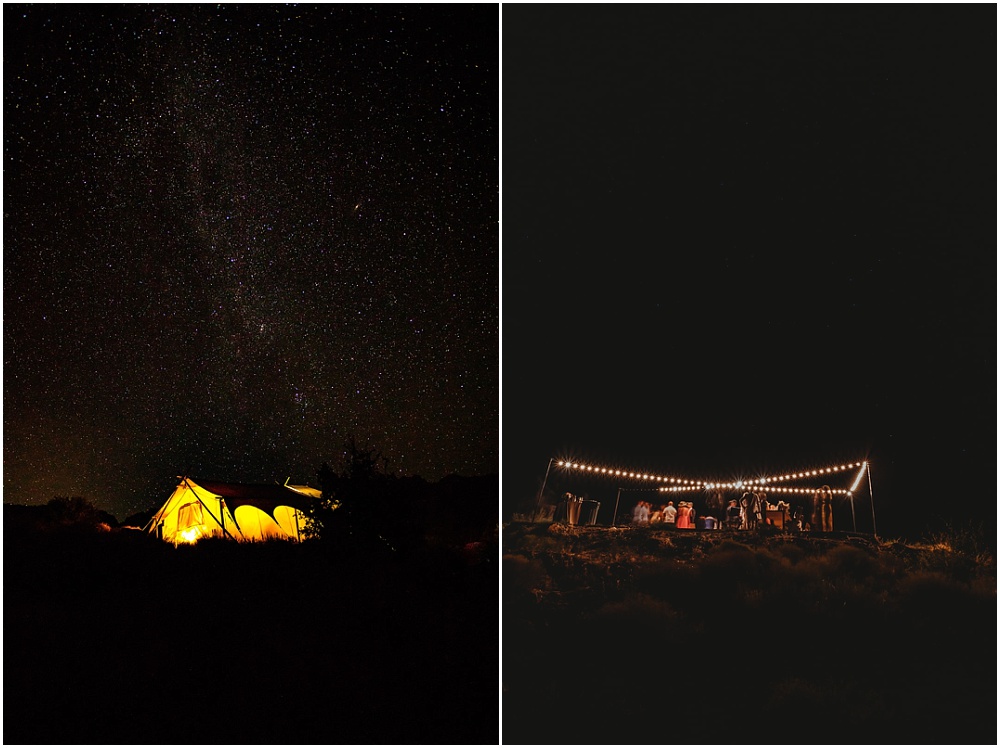 Destination Weddings are an absolute dream. I am so honored to be apart of so many incredible locations and couples' stories. If you are planning a Zion Wedding or even a Thailand Destination Wedding reach out and I can help you plan your day to enjoy every bit of the beauty of your day.
Vendors

Hair and Makeup were done by the amazing Bethie Cook.

Black Walnut Catering brought to life the most amazing food.
Check out the beautiful video from Zion Wedding Films here!
Here's a little peak into the welcome party!